Black Bear Hunting, One of Our Biggest Events at House in the Woods!
The annual, three weeks of Black Bear Hunting is a busy, adventurous and fun time for all associated with House in the Woods! The group of veterans and active military who join us always enjoy themselves, whether or not they harvest a bear. 
This year Black Bear Hunting with House in the Woods was August 26th-September 2nd, September 2nd-September 9th, and September 9th-September 16th, 2017.
We were honored to have 40 guests            this year!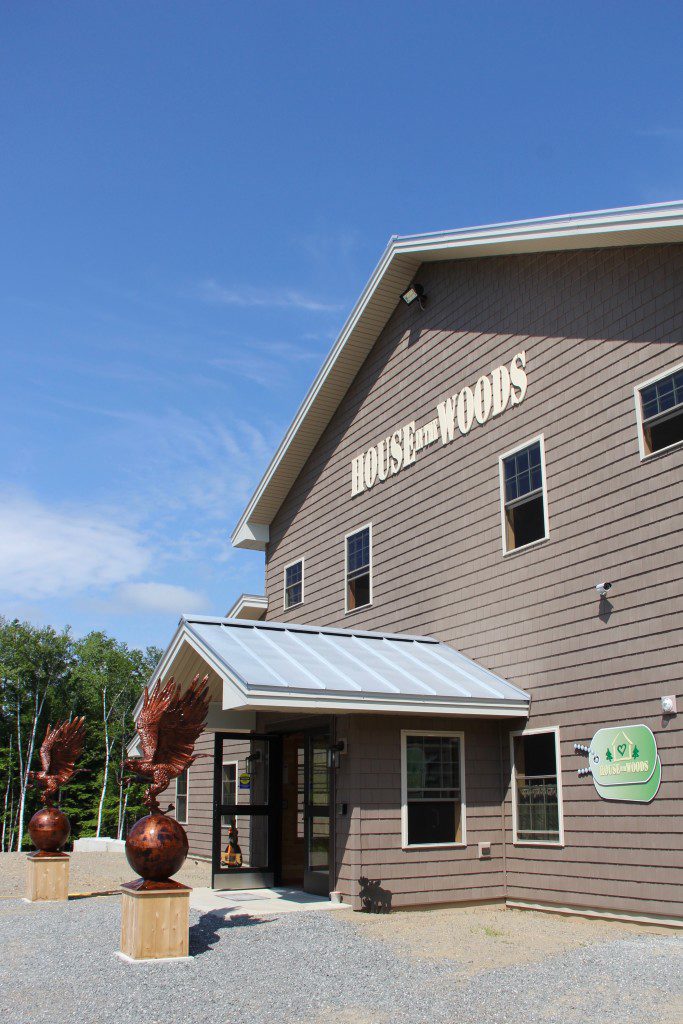 Hunting with other veterans provides the connection often sought but difficult to find in the circle of civilian friends.
Hunting with a Maine Master Guide, having meals with vets and guides and enjoying all that Nature provides in beautiful Maine brings a true sense of a breath of fresh air for these men and women who deserve the best we can provide for them.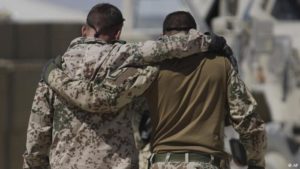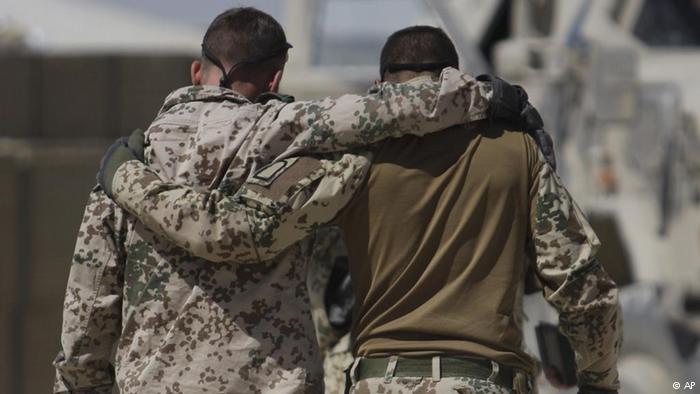 After the second or third day many are able to talk about things only another combat vet understands: PTSD and physical injuries, family life and attempts to readjust to all when returning from duty. Friendships develop and a definite healing process takes place.
Truly a different aspect of rehabilitation for our combat warriors.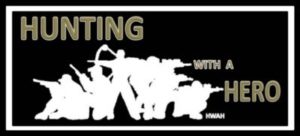 Some attendees arrive with very special friends in our network of nonprofit veterans groups; Hunting With a Hero and Combat Marine Outdoors, both of which are amazing veteran organizations, like House in the Woods. Both are also dedicated to getting our vets outdoors, hunting, fishing, kayaking or relaxing on the water in a canoe. Helping them to relax and just breathe!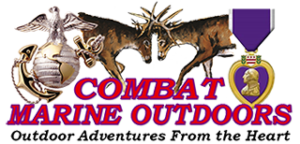 Combat Marine Outdoors shares: Thank you to House in the Woods. Paul, Dee, the volunteers and the guides were outstanding. The stories, friendships and times we shared will surely last a lifetime.
Maine Bear hunting has been something we look forward to every year. Keep up the good work and look forward to next year. Thank You and God Bless!!…..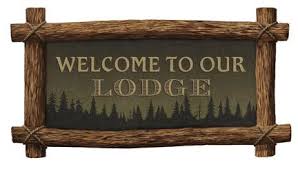 The House in the Woods Military & Family Retreat's Mission is to create a therapeutic, recreational, and educational retreat for our nation's U.S. armed forces and their families, using outdoor wilderness activities in Maine and natural habitats to help participants share common challenges related to their service and sacrifice in protecting our nation's freedom and democratic ideals.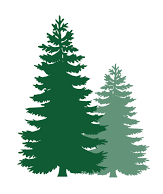 Meet One of Our Guides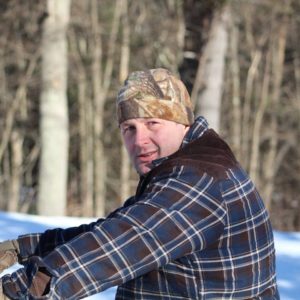 ~Why I Guide for House in the Woods~
I first met Paul and Dee House in 2013. I had just retired from the Marine Corps after 21 years of service, moved back to Maine, and started my second career as the director of a private family foundation. A member of one of the foundation's committees, Stu Jacobs, contacted me and said I needed to go to Lee and talk to Paul and Dee House about what they were doing. Like a good Marine, I did what I was told. I set up a meeting and headed for Lee.
I arrived at their home and was greeted like an old friend. Paul, Dee, and I sat at their table and they told me their story… And this is where I was moved, but not like most people who are moved by their experience.
Let me provide some back story. One of my last duty stations was Miami, Florida. While in Miami, a collateral duty of mine was to be the Casualty Notification Officer for the south Florida region. In my time there I notified twelve families that their love one had died. I was the ultimate bearer of bad news. The emotions ran the spectrum from absolute hysteria, to very little care at all. One thing that never happened, as far as I know, was that any of the families went on to create an organization with a mission to serve veterans and Gold Star families. They mourned, they healed, and they eventually moved on. When I heard what the House's and the Emery's were trying to do I went home and told my wife I have to do something.
Why did I have to do something? Because I believe that there is actually healing power in the Maine woods, and because I believed Paul and Dee. I've come across a lot of organizations that say they "help veterans," and I'm sure they do, but none as honest and straight forward as House in the Woods. I had to do something because I honestly believe that as a combat veteran, who has lost brothers, I must lead a life worthy of their sacrifice. Paul asked me on several occasions to come on fishing trips, or hunts with them but I always turned him down, I'm a pretty good woodsman with plenty of opportunity, I did not want to take someone's spot. So one day I thought I should get my Registered Maine Guides License and help. It was the best decision I could have made.
The first person I called after I passed the test was Paul. I said, "I'm taking a week of vacation from work and guiding the first week of the bear season," and that is what I did. It was an experience beyond my expectations. When I departed after my week guiding I sent Paul a text, it read; Paul I just wanted to say thanks for letting me guide this week, it was everything I thought it would be. If I could figure out how to do it all the time I would. The guys are great; you have some real dedicated people there, thanks."
I didn't mention the killing of bears, it's not important. What is important is the comradery that occurs. What's important is once again having a mission, a focus, and a drive to complete a challenge and to work as a team to do it. That's what House in the Woods is. It's a return to what we veterans see as normal. It's everyone involved from the kitchen staff, guides, volunteers, and even the dog! pouring every ounce of effort into the hunter having a real healing experience. It's about everyone living a life worthy of their sacrifice.  I already look forward to my next chance to guide for House in the Woods.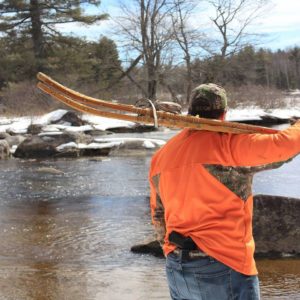 Learn more about the services Jim offers as a Registered Maine Guide.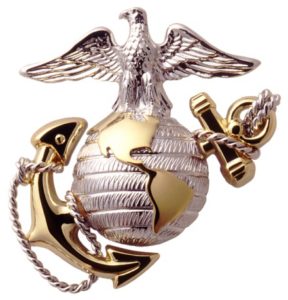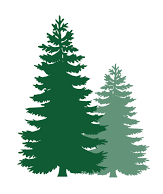 Lobster Lunch is Served
Each week we begin the hunt with a welcome feast of a lobster boil cooked, prepared and served by our awesome troop of volunteers!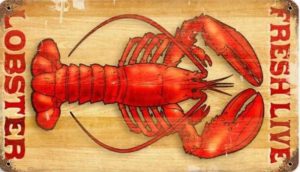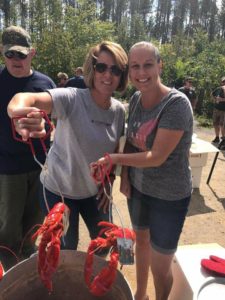 Serving up lobsters fresh from the pot!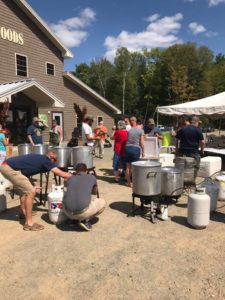 Great meal to start the week!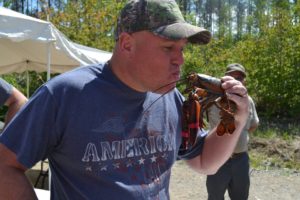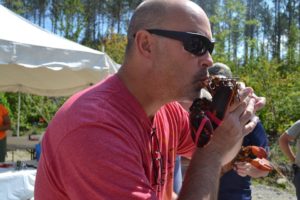 Lovin' lobsters!!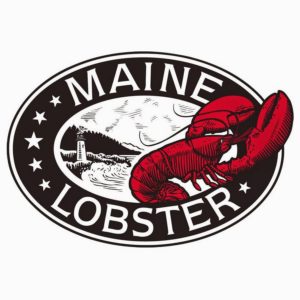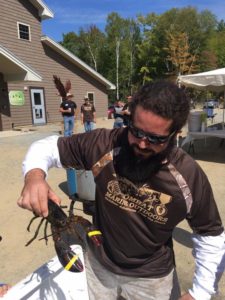 Attendees are asked if they would like to choose their lobster for lunch.
Nothing like fresh Maine lobster for our veterans!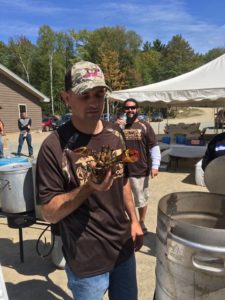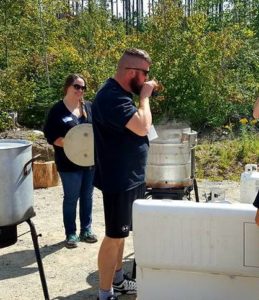 Giving his lobster a proper "thank you" prior to it going in the pot to boil!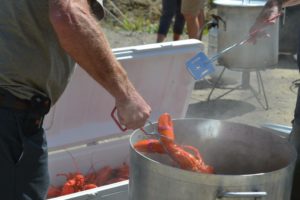 Lobster's ready!!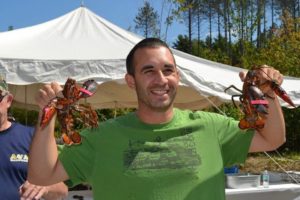 These great Maine lobster meals are provided through the generosity of local lobster men and retailers along with all the corn and side dishes that are donated by so many of our fabulous local residents! AND…scrumptious desserts. These generous people know many veterans and active military whom they choose to honor in any way possible. Maine has the best people!!!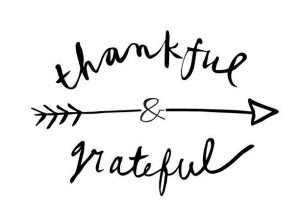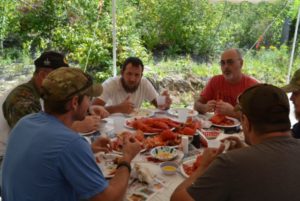 Lunch with the Best of the Best!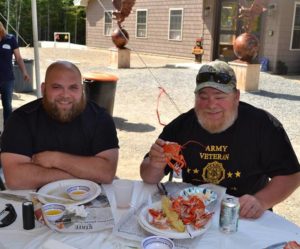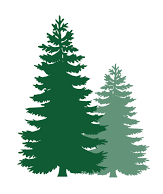 The Force Behind the Meals
Jessica Cloukey shares: I want to truly thank each and every volunteer who helped me over the past 3 weeks for House in the Woods. With things at the lodge this year I had to rely on all of you to help me pull this off successfully. We were 110% successful! Things went as smooth as they did because of each of you. THANK YOU! I couldn't have done it without you. Below are just a few of the generous volunteers! I forgot to take pictures most days I was there!!!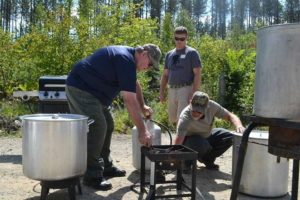 Daily: 30 people, 3 times per day for 3 weeks. That's 90 meals a day times 21 days which is almost 1900 meals. Extra people join in on Sundays for which House in the Woods safely plans for a total of 2000 meals!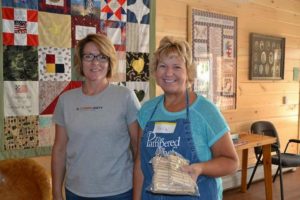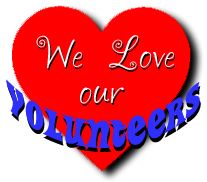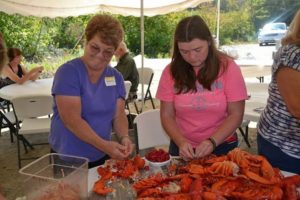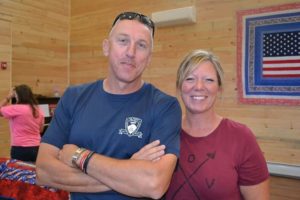 Best of the Best!!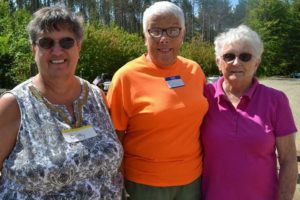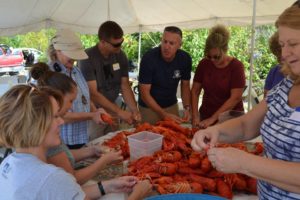 No task too much for this crew!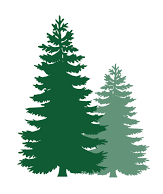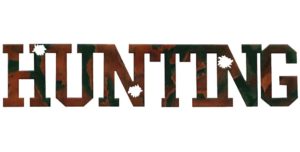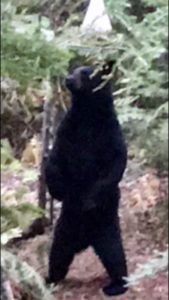 One of the many successful bear bait sites prepared at over 200,000 acres of hunting trails.
Total Number of Attendees for 2017 Black Bear Hunt: 40!!!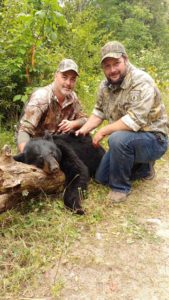 Tom Gardella and Guide Jim Neville
Tom Gardella, US Army MP, Retired shares: Sometimes things just hit you. Sitting in the airport I think back over the past week. Instead of worrying about what things, I am reminded how fortunate I have been. Janet said to go enjoy my hunting trip, Steven invited me on the hunt, William and Cyle Dallis became my friends and great allies in helping Veterans. Paul House reminded me what it is to be selfless. Big Al and Jim Neville showed me how to never give up. Turbo (dog) displayed how your size doesn't dictate what you can accomplish. Ron and Sherry displayed how to really care. I was fortunate enough to meet new friends and reconnect with Rob, Jared and Tony. Despite some bumps in the road, I have to say that I have it pretty darn good! Thanks to all for making this such a great trip and memorable experience.….~Tom Gardella, US Army, MP, Retired~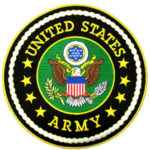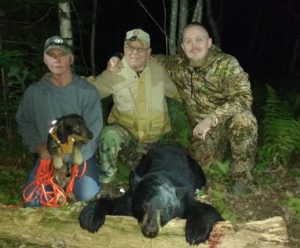 Pictured here L.-R: Paul House, Rob Stitham, Army and his Guide Big Al.
Rob shares: I had 90 seconds left of legal shooting light. I heard the truck driving down the dirt road to come and pick me up. I am getting ready to pack up my bag and something told me to take one last look. I look left…. i look right and she was 12 feet in front from me!!! She walked straight to the bait and it was so dark I lost her in my scope. 18 yard shot, she was gone!!! I zoomed in on my scope to 15 and i saw her. Couldn't even see my cross-hairs it was that dark and BOOOOMMM!!!! On the 5th and final day of the hunt…in the last 90 seconds of legal shooting light…. It was meant to be. My first hunt in my home state of Maine. SUCCESS!!!
Thank you to Paul House for your vision and friendship. I will remember you and Mrs. House for the rest of my life Sir.
Thanks to my guides Jim Neville and Big Al. Both of your knowledge and determination to get me on a bear was second to none. I won't forget how hard you both worked this week.
William James Dallis & Ron Gooding, thank you for making this possible. You guys have NO IDEA how much it meant to be able to come home to my home state and harvest a Bear. YOU GUY'S Rock!!!
And last but certainly not least, to my Big Bro Steven Holden, thanks for making this happen and getting my name to Ron and Bill down in South Carolina. Without you this would not have been possible.
Paul House, you have no idea how awesome this week has been to me! Coming back to my home state and harvesting a Bear was always a dream. Thanks for all you do for my brothers and sisters in arms. You and Mrs. Are AMAZING!!! Hope to see you guys soon...~Rob Stitham, US Army~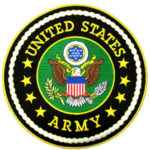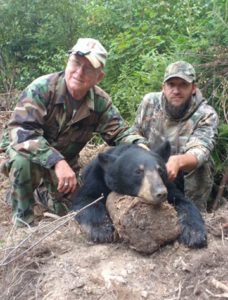 Mike on left with Big Al the Guide.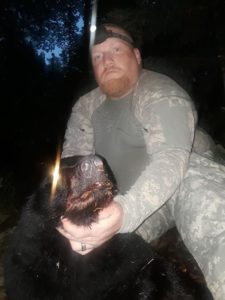 Dale with his harvest!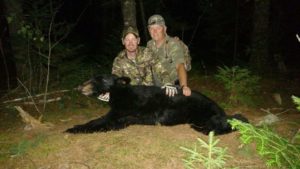 Jared Feldman and Guide Dan.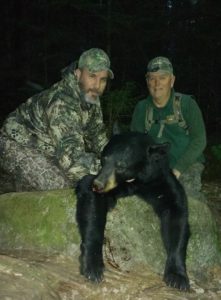 Steven Holden, Army Medic, Retired with Maine Guide Dan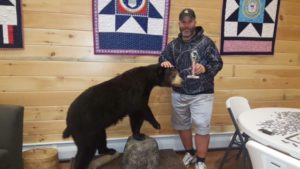 Steve won week-one Big Bear Trophy for largest bear harvest.
Steve shares: Best hunt ever!! Thank you so much Paul. Your hospitality is amazing. You have the best people working around the clock to make things happen!! This is truly a piece of heaven on earth. AMAZING TIME!!!…. Steven Holden, US Army, Medic, Retired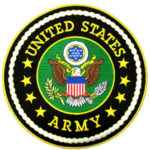 Thank you Paul House, House in the Woods and Hunting with a Hero for a fantastic bear hunt. My guides, Jerry and Richard, were the best! Of course they were – I got a bear!
The real heroes are the soldiers and retired military I am honored to be here with! They are the ones who have made this truly a hunt of a lifetime!
House in the Woods, (a nonprofit) operated by Paul and Dee House, is a hunting lodge for soldiers and veterans and their families in appreciation for their service to our country. I am blown away by the number of volunteers who so selflessly come to serve the guests. They don't allow us to do anything but eat, fellowship with other guests, eat, hunt, eat!! Sunday was lobster fest with all the Maine lobster you can eat. If you are a vet, check this place out! 
It was an awesome time! Yes, I got my bear but the friends we made was the highlight of the trip! Thank you Jessica Young Cloukey for all your efforts organizing the volunteers and food. Thanks to you, I gained 4 pounds!! You did your job well! ~Sherry Gooding, South Carolina
Sherry received the first place trophy for the largest bear harvested during the second week of black bear hunting.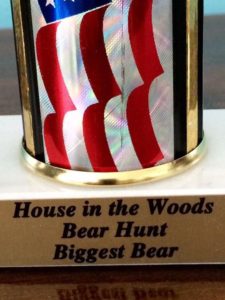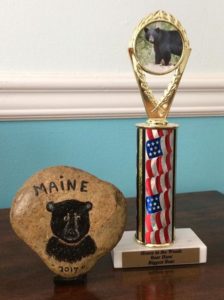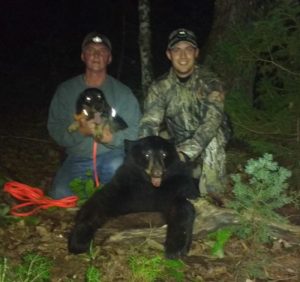 First bear of week 3 was harvested by Keith who was up for the hunt with Warriors@45North from NH.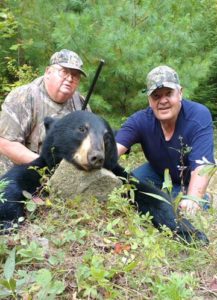 Paul Woodman and his Guide Dean had a great hunt!
Paul shares: To House in the Woods and all the wonderful people who donate their precious time in making the veterans feel so welcome. I want to thank you all from the bottom of my heart for being there.This past week was more than just taking a bear,it was the meeting of new family and making memories that will last a lifetime.Once again thank you all……Paul Woodman, Army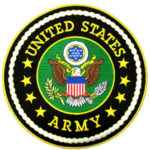 In Between the Hunting 
Left to right: Tom Orf, Guide with Matt Merritt, TJ Riddick, Paul House, Executive Director of House in the Woods, Turbo the dog bear tracker, and Mike Gould.
Matt shares: What an honor this week has been! Richard Wade Jones and myself joined a group of American heroes for a bear hunt in Lee, Maine at House in the Woods. It was a week of healing and decompression for most of the Veterans. As I sit in this airport on my way to Rochester, NY I can't help but think about all the stories they told, of some of the things they did to protect and serve us. I am also thinking of the volunteers at House in the Woods and how their service to the Veterans helped them heal. If you know of a veteran that needs a break or just wanna donate money or goods to this great organization their website is www.houseinthewoods.org even sharing this post will help.
When we first arrived everyone kinda kept to themselves. Four days later, everyone has opened up and it's a pretty special scene! God bless all of our troops! "Never above you, Never below you, always beside you."….Matt Merritt, Professional Rodeo and Bull Riding Entertainer.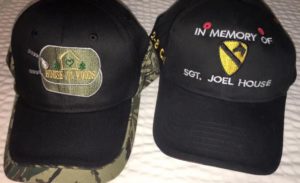 A lot of really cool things have been given to me over the years but, this is special. Here in Maine the people are as genuine as you could imagine. These are hats given to me by Paul House who operates "House in the Woods". It is a hunting and outdoor retreat for veterans of our country in honor of their son Joel who gave his life for us. Just want everyone to know how humbling this life can be. May god bless all the veterans of our country and their families!!! …..Matt Merritt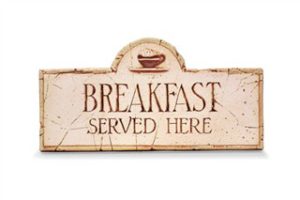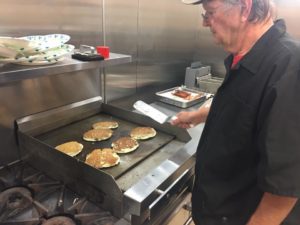 Cooking breakfast for our veterans and guides before the hunt begins! Those folks have a BIG appetite!
Some Well-Deserved R&R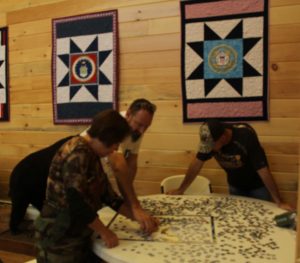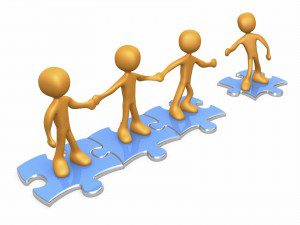 Think this will get done this week??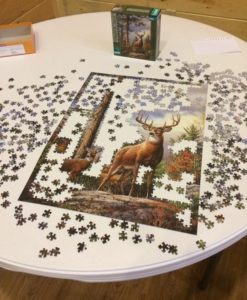 Getting there!!!
We Are Putting the Pieces Together at House in the Woods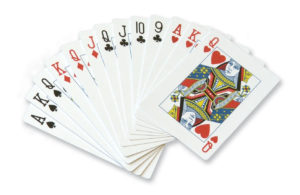 Cards in the Great Room at the lodge.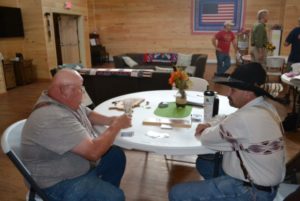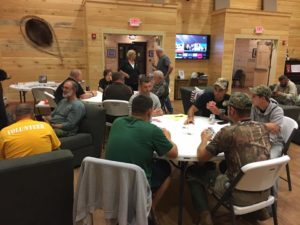 I will keep my rifle clean and ready….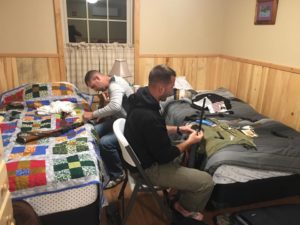 Marines, Drew Robeson & Tommy Wallin prepping for the hunt.
Drew shares: I just returned from a great week of hunting with House in the Woods. A big thank you to Paul House and all of his volunteers who cooked cleaned and guided us through this whole week. Debi Gould, it was so nice meeting you. Matt and Rich, you guys are great Americans and were a riot. I made life long friends through this week. Semper Fi…….Drew Robeson, Marine Corps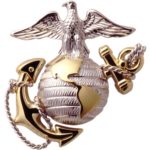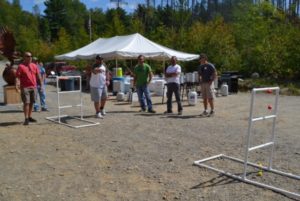 A little friendly competition to work off that lobster lunch!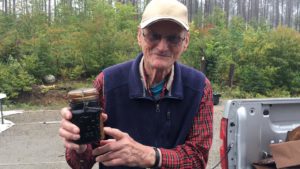 Bob Cobb, 91 yrs old, served in Italy during WWII. He delivered syrup he made 30 years ago to be put on the bear bait sites.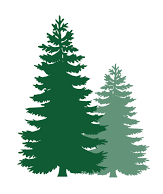 A Gift of Appreciation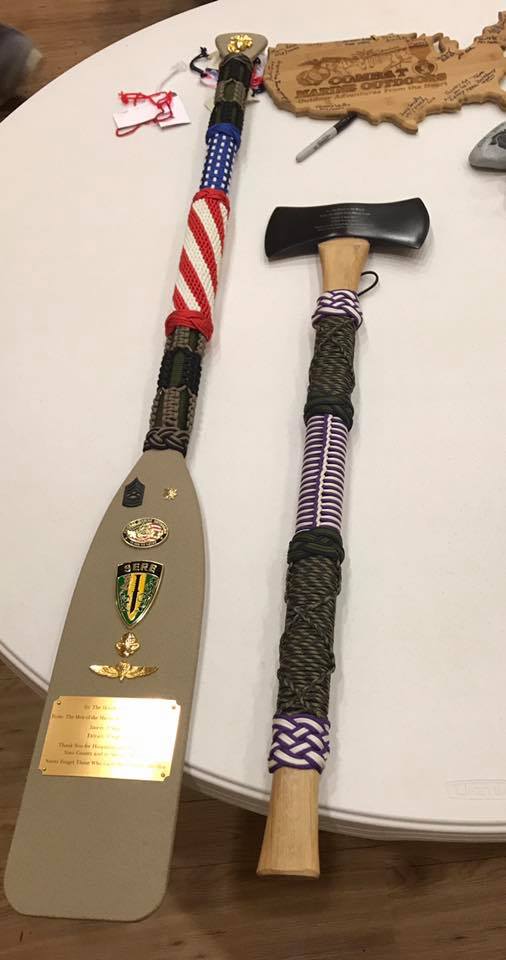 Deanna House, Administrative Director of House in the Woods shares: It's always fun to meet a new group of veterans but so sad when it's time to say goodbye. Many of our hunters had to leave early because of either Harvey or Irma. 
The Combat Marine Outdoors group presented us with a beautiful cutting board for the kitchen and an oar and a double bit ax trimmed with parachord.
We had fun playing cards in the evening. None of this would have been possible without the outpouring of support through volunteers for kitchen, guiding, cleaning, and office work. I get choked up when I think about how much our community has reached out to support our veterans. Thank you from the bottom of my heart….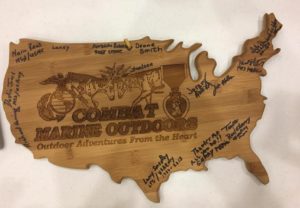 Combat Marine Outdoors Presents Gifts to Paul House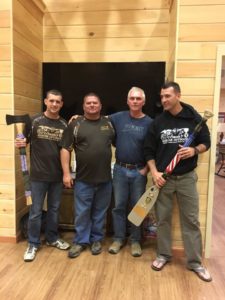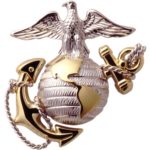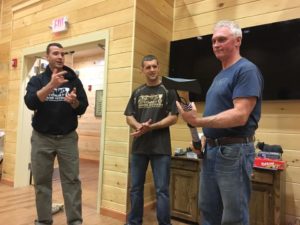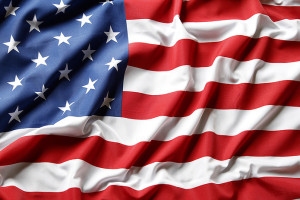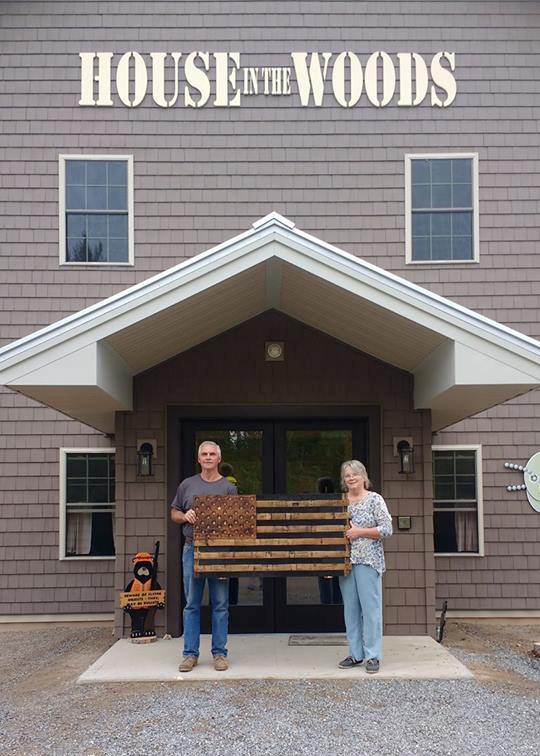 Paul House, Executive Director of House in the Woods shares: My wife and I would like to thank the Heritage Flag Company out of North Carolina for this incredible piece of craftsmanship made from barrels in memory of our son Sgt. Joel House. Thank you Rob Stitham one of our vets on the bear hunt for making this happen. This is truly amazing!!!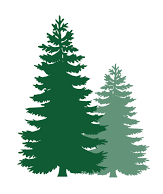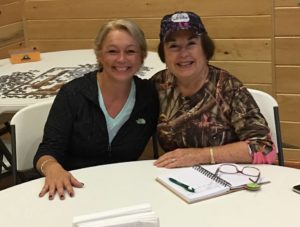 Debi Gould and Sherry Gooding
Debi Gould shares: Well now, getting back to life after my amazing week spent at House In The Woods, I have had time to sit back and reflect on how incredible it really was.
I learned that real cowboys love golf, and enjoyed sitting, chatting, sharing thoughts and admire your insight, that respect for each other should be given to everyone, even those we don't agree with. Thank you Richard Wade Jones
I also learned that there are still just good kind-hearted people in this world that will put others before themselves and have an amazing gift to bring smiles and happiness to people they have just met. Thank you Matt Merritt
I have been reminded of the amazing people we call our Veterans. Their willingness to go above and beyond, to include everyone, always put others before themselves and their unspoken pride that they carry so well. To see such strong, brave men that then turn to mush when showing you pictures of their little girl starting her first day of pre k. Thank you Drew Roberson for sharing.
Then of course some things that I will never understand but am in absolute amazement, to look into the eyes of a parent and see the sorrow of someone who has lost the single most important thing in their life but also still see the spark of happiness by doing for others. Can never thank you enough Paul House for what you have done and are continuing to do.
I also want to make sure I give a shout out to these mega companies that still take the time to recognize and say "Thank you" to our Veterans and the amazing people at  House In The Woods: PBR Velocity Tour, Wrangler, Cooper Tire, Rocky Mountain Elk Foundation, BEX Sunglasses and our own local Maine-ly Tactical & Uniform, thanks Rod.
When I think about my time spent at House in the Woods and what it means to me I tear up. Not because of one feeling of being happy or sad but because you leave with so many emotions all hitting you at once! Things like sorrow, pride, respect, happiness, thankfulness, friendship and blessings. Thank you to everyone for sharing an amazing week with me, I was honored and truly touched.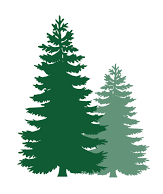 Thanks to your generosity, we are able to provide FREE outdoor retreats to our service members and their families. Your contribution and support may change, or save, a veteran's life.  Get involved today.
If you would like to sponsor an event for a veteran who may not be able to afford it, simply visit House in the Woods at link below.
Sponsoring a vet for such an event is a gift they will cherish for a lifetime.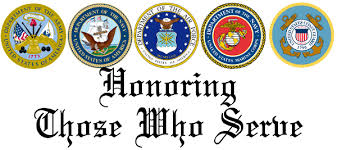 We honor, respect and love each and every veteran who has served, and the active combat warriors who are currently serving our country. Because of your dedication, all citizens of these great United States enjoy the freedom and liberties your service has granted us.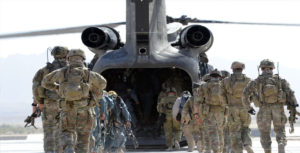 ~God bless each and every one of you~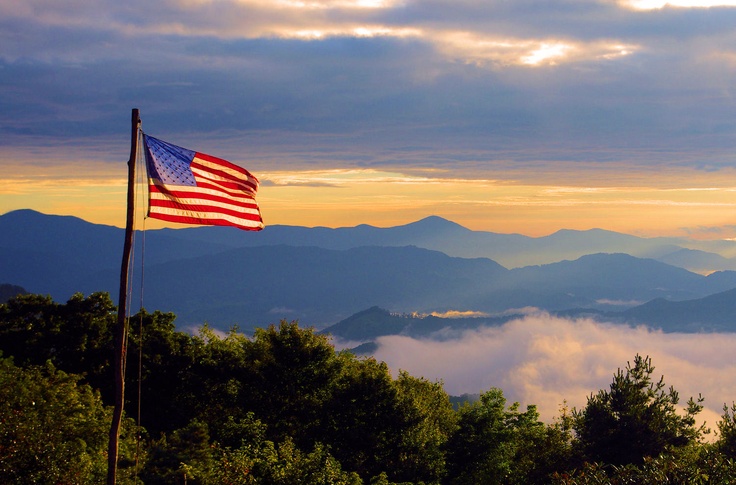 We offer outdoor retreats for active duty military, veterans, and their family members, in the great wilderness of Maine. Activities include hunting, fishing, canoeing, kayaking, hiking, nature tours, campfires, swimming, and wildlife identification and spotting.
~THANK YOU FOR YOUR CONTINUED SUPPORT~