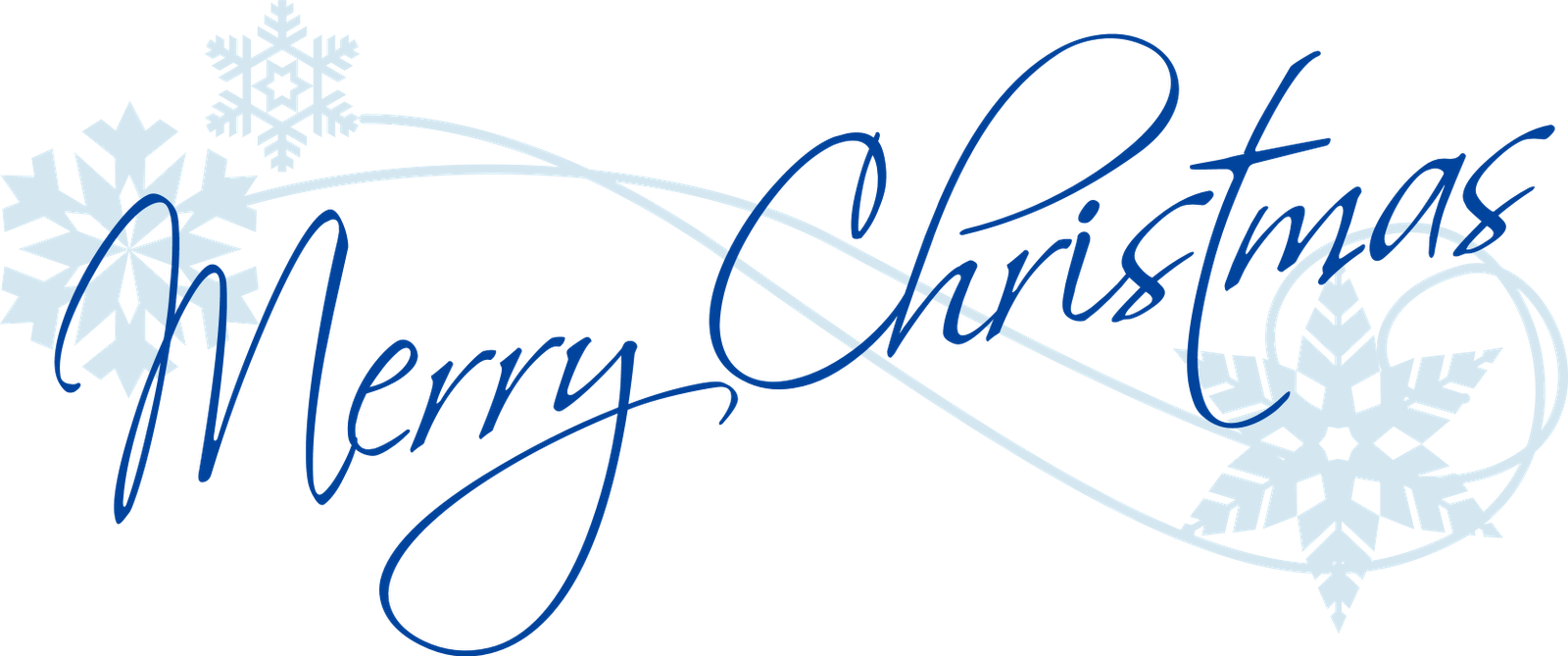 House in the Woods wishes you the Merriest of Christmases this year!
As the blessed season of our Savior's birth approaches, and you are wishing all a Merry Christmas, please do not forget that there are so many of our United States service members who  have been deployed. These men and women are away from friends and family for the holidays.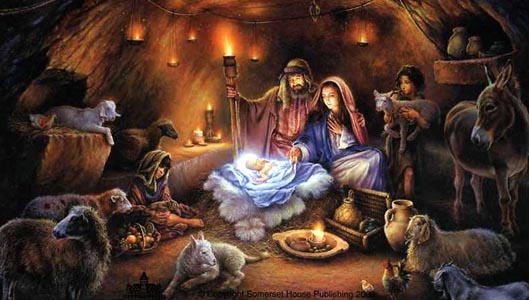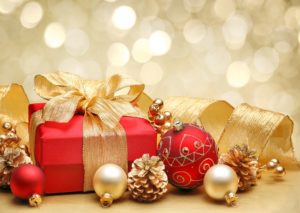 As you are wrapping those gifts and sending those cards, and making plans of whom to visit during the Holidays, say an extra prayer for all who are in harm's way.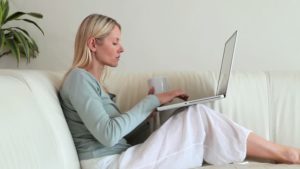 While you are searching the Internet for that perfect gift, take some time to search up the many military services available to send a deployed service member a card or a care package. Include an encouraging handwritten note to tell them that you are thinking of them and their loved ones. The holiday season can be a rough time for those away, especially a first deployment.
For many civilians, this may simply be a passing thought. You run into a friend who tells you that a classmate you both graduated with is in Iraq. You briefly speak of it then go on your way....soldiers away from home…. Three hours later you forget about it. We ask this year that you perhaps make sure to give our active duty another thought!

Mail From Home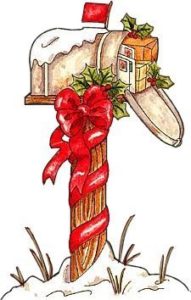 Not everyone will be home for Christmas this year. Send some cheer and gratitude to our men and women who are deployed.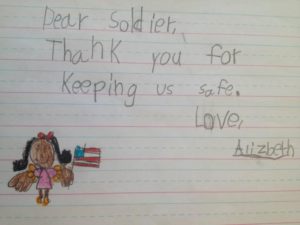 Not just at Christmas, but all year long!!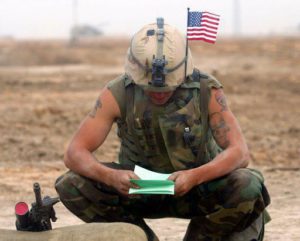 There's no greater break from the day than to receive a letter or card from home. Something that can be carried in their pocket to be read often, touching apiece of home. 
                                                                                                                                                       Photo Courtesy of Soldiers Angels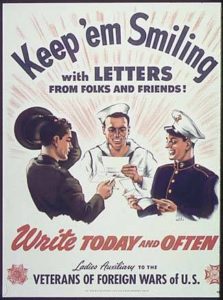 World War II Poster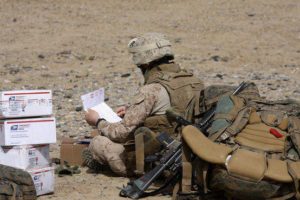 Photo Courtesy of Soldiers Angels
Wondering Where to Begin?
Perhaps you don't know anyone currently serving in the military but still want to reach out to send a card or letter.
There is a nonprofit organization called Soldier's Angels. In 2003, Patti Patton-Bader founded Soldiers' Angels when her oldest son, Staff Sergeant Brandon Varn, was deployed in Iraq. Her son made comments that he was one of the few soldiers receiving care packages so Patti gathered some friends and neighbors and they began sending packages to his whole platoon.
Since then more than 824 thousand care packages have been sent to combat deployed service members over the last 14 years. Also, 1.6 million cards and letters have been sent to combat deployed. Check their website to see if you can become involved.
May no soldier go unloved,
May no soldier walk alone,
May no soldier be forgotten,
Until they all come home.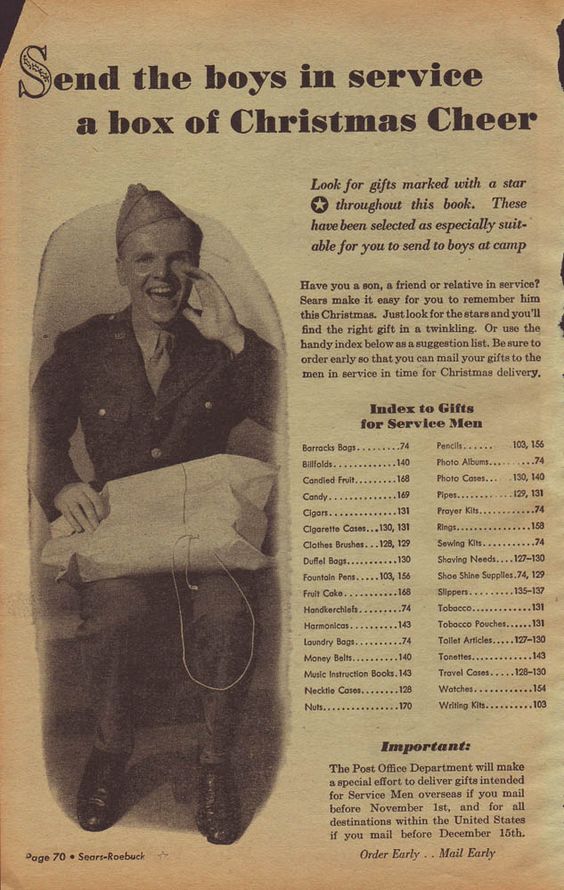 1942 Sears Catalog. Families have been supporting our heroes at Christmas for generations. Keep the tradition alive!!

This year, with lots of help from some tremendous volunteers,  House in the Woods sent out 1,450 Christmas cards!!!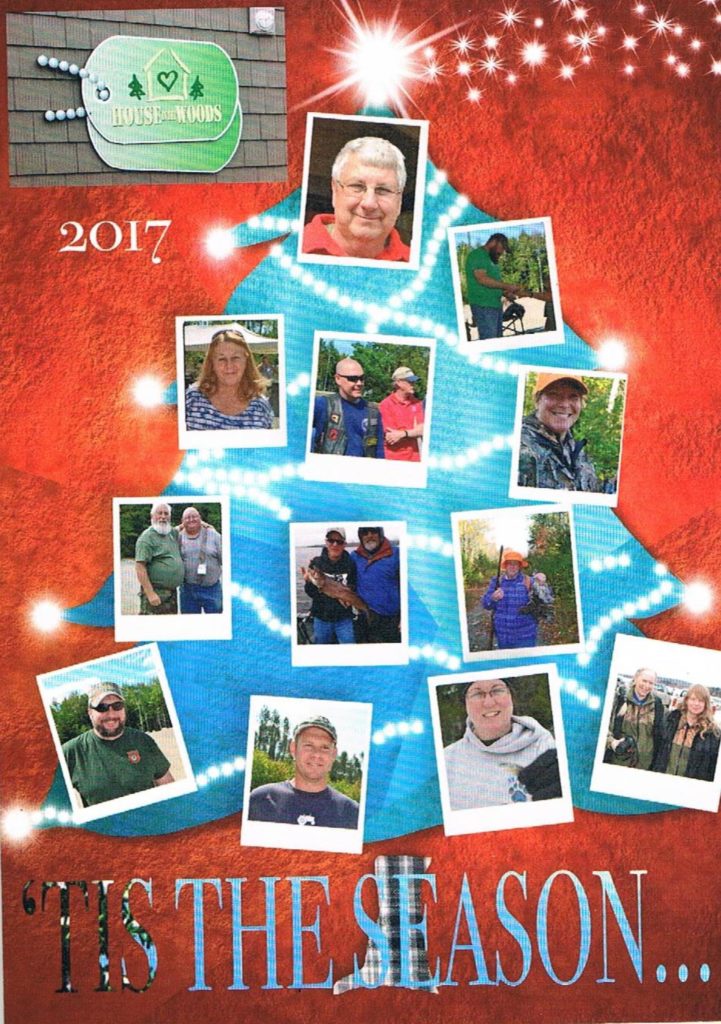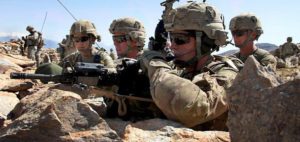 The United States has 1.3 million troops stationed around the world!
Business Insider Military & Defense
Chances are one of these men and/or women is a loved one, acquaintance or coworker. Take some time to read this article. Hopefully you will understand why we ask that you pray for all our troops this Christmas and every day.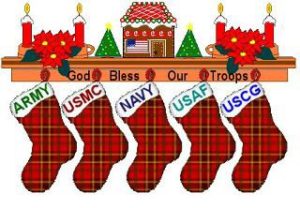 All of our active military, we wish you a Merry Christmas, wherever you may be. 

House in the Woods Has The Best Group of Volunteers. We Would Like You to Meet….
Volunteer and Army Veterans
Aaron & Walter Greene~Morse, Owners of Patriot Ridge Homestead
Walter and Aaron Green~Morse United States Army veterans.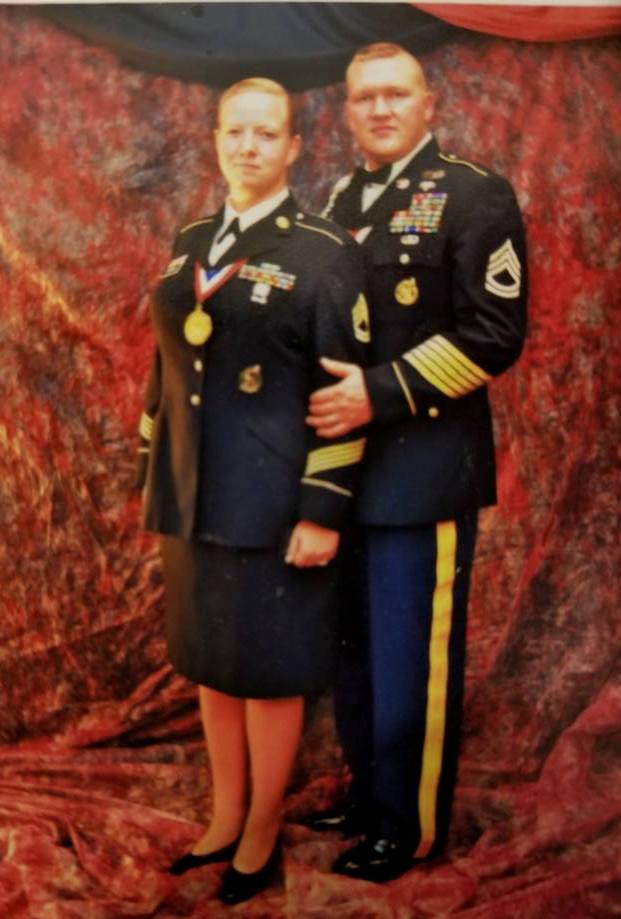 Aaron Greene~Morse shares: We are very thankful to be part of the House In The Woods extended family. That is how we've been made to feel with Dee and Paul, Farleen, Carol and all the volunteers.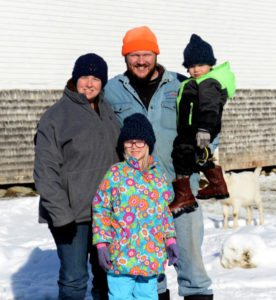 Walter and I are connected to House In The Woods through Joel House. We were stationed in Bangor, Maine as recruiters 2001-2005. Walter met Joel as he was preparing to graduate high school, Walter was his recruiter. Like-minded men with an interest in the outdoors and a love of country. Walter was deployed to Iraq 2006-2008, the same time as Joel was there but not with or near each other. Walter is a Purple Heart recipient as he was injured in Iraq in 2008.
Walter and I reconnected with Paul and Dee in the summer of 2008 when we purposely drove to Lee to offer our condolences. After we purchased our farm and Walter moved to start working on the house and the farm, he also wanted to study and apply for his guides license. With the help of Paul, and the veterans program he helps facilitates, Walter was able to obtain his Maine State fishing and recreational guide's licenses.
With our small homestead we are currently raising a handful of Highland and Dexter cattle, Cotswold and various sheep. Oh, and a son and daughter!! We also have the standard flock of chickens, two Guineas and one Muscovy duck.
(Please take some time to view Patriot Ridge Homestead on Face Book.)
Our future plans are to build a riverside cabin in which we can provide temporary housing to a veteran in need.
Patriot Ridge Homestead is a 6.5 acre homestead  in Jefferson, Maine. Our children Joseph and Paige help out with feeding the animals and by simply bringing great joy to our lives.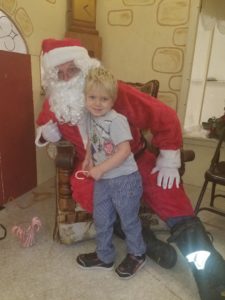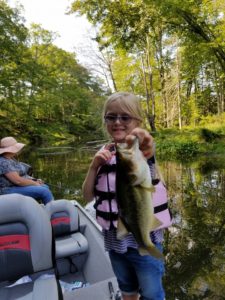 Joseph Greene~Morse, age 3 years.
                                                                  Paige Greene~Morse 8 years old.
Both of our children were born while I was on active duty, and they love living on the farm.
When I was contacted by Debi Gould to be part of an all women's bird hunt at House in the Woods, I was ecstatic!! (photo below).
(Read HITW Veteran's Day Newsletter for details and pictures of the first annual Women Veterans Bird Hunt)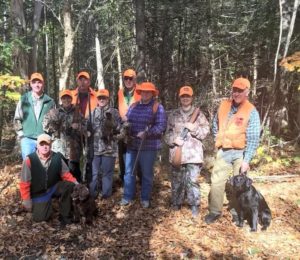 Aaron Green~Morse is third from left, front row, blue plaid shirt and long gun.
Aaron continues: I am glad I have made friends with the other female veterans who stayed at the lodge for the Women Veterans' Bird Hunt: Anne Devin, Carrie Mancini and Kristina Sabasteanski all who I hold in high regard.
 My children were excited to spend time at the HITW lodge. After I had gone on the bird hunt they were very curious and excited to spend the night at the lodge with me.
When I retired from the Army I held the rank of Sergeant First Class (E7). I spent 20 years as a Signals Intelligence Analyst, MOS 35N (formally 98C). I retired from Ft. Meade, Maryland June of 2015. 
The Growing Home series was an awesome opportunity to meet and connect with other veterans. ……..Aaron Greene~Morse, U.S. Army Veteran.
The following is a link to the trailer of the show that was broadcast throughout Maine. Growing Home Episode 1 Second Service  House in the Woods was featured in Episode 5.

November Happenings
Veteran and Community Thanksgiving Dinner at The Lodge at House in The Woods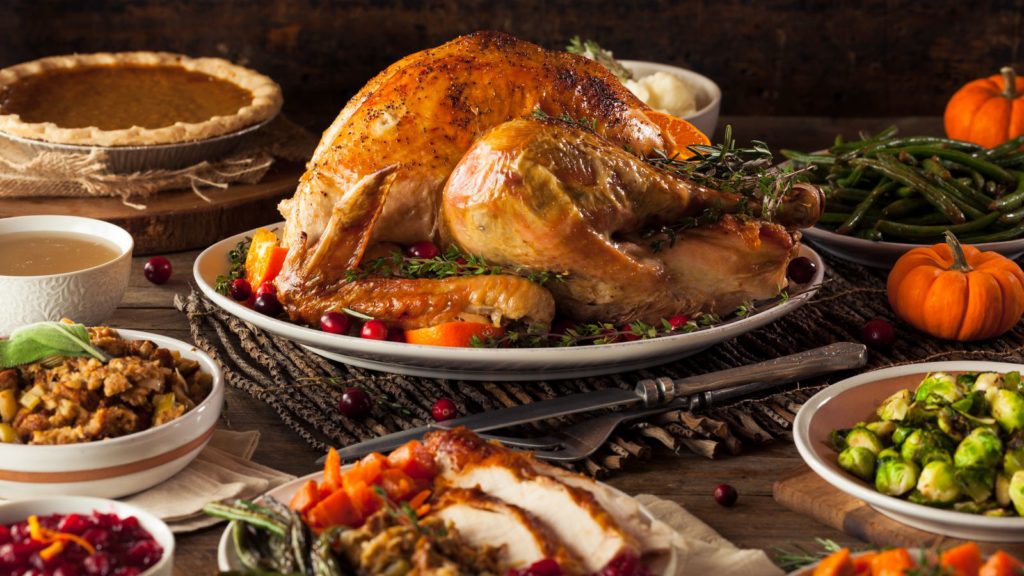 House in the Woods held its' first annual Thanksgiving Dinner at our beautiful lodge in the wood of Lee, Maine. We served ninety Thanksgiving dinners.
The guest list was comprised of veterans and guests, active military and guests as well as members of the community.
We want to thank all the fabulous volunteers and those who donated to the success of this wonderful day of thanks.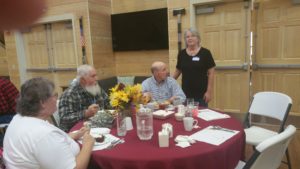 Deanna House welcoming some guests to Thanksgiving Dinner.
One of the things that's very important for us is that we integrate veterans into the community, so we always try to make the community a part of it.
Thanksgiving was such a blessing this year. It not only included my own family, but also our veterans and the community. Thanksgiving is a great time to remember that we have so much to be grateful for in this crazy world. We owe that to God and the American soldier……Deanna House, Director of Administrative Services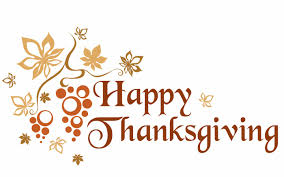 LEE, Maine (WABI) – Folks gathered at House in the Woods in Lee spent their Thanksgiving cooking up a meal for Maine veterans and other members of the community.
Courtesy of WABI-TV, Maine listen to the guests and hosts while local television host Zach Warren visited House in the Woods to speak with guests. WABI-TV, Maine
Kim Moriglioni states:  I attended the event in short notice, what a great facility and meal. A very warm welcome, great idea for the veterans and I'm going to get the word out about the place along with some donations. Thanks!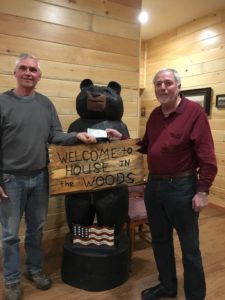 Thank you to Paul LaBreque of the Safari Club Maine for raising $1958.00 for HITW this holiday season.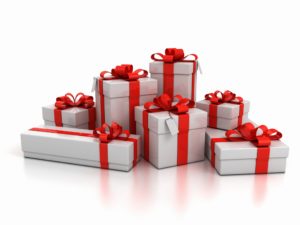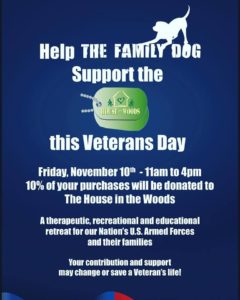 To help support our local Veterans this year, The Family Dog Restaurant in Orono, Maine donated 10% of all purchases from 11 a.m.~4 p.m. to House in the Woods.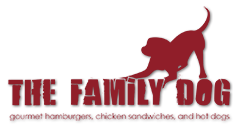 Gourmet hamburgers, chicken sandwiches and hot dogs. Fresh local ingredients, creatively paired with local Maine craft beer. If ever you visit you will have a superb, delicious meal!!
Many thanks to The Family Dog restaurant.
 
House in The Woods Mission:
   To create a therapeutic, recreational, and educational retreat for our nation's U.S. armed forces and their families, using outdoor wilderness activities in Maine and natural habitats
To help participants share common challenges related to their service and sacrifice in protecting our nation's freedom and democratic ideals.
Together We Heal at House in the Woods
We offer canoeing, kayaking, hiking, hunting, fishing, nature tours, campfires, swimming, wildlife identification and spotting, and other natural Eastern Maine resource "treasures" God has given our beautiful state to enjoy.
As participants face the outdoor challenges presented by Mother Nature herself, they will have the opportunity to share laughter, memories, sorrow, service, and pride, among many other common bonds.
 A few words spoken by veterans and those currently serving:
 The deepest pain I ever felt was denying my own feelings to make everyone else comfortable.
My mind is a cruel thing. I forget the things I try hard to remember, and I remember…..all too well….. the things I try hard to forget.
It's a constant battle, the war between remembering and forgetting.
There are wounds that never show on the body, that are deeper and more hurtful than anything that bleeds.
It's hard to admit you're not as strong as everyone believes you are.
I hate getting flashbacks from things I don't want to remember.
We don't return the same person that we left as.
 AND NOW I'LL DO WHAT'S BEST FOR ME

December 12, 2017 Summit on Veteran Suicide Prevention , Portland, Maine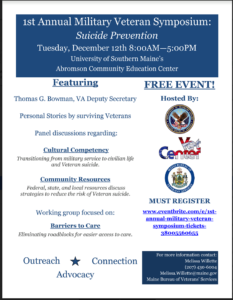 On December 12, 2017 the Maine Bureau of Veterans' Services, VA Maine, and Maine Vet Centers hosted a first-in-the-nation Summit on Veteran Suicide Prevention.
Thomas Bowman, the Deputy Secretary for the US Department of Veterans Affairs delivered the keynote address,  discussions followed regarding community resources for suicide prevention and eliminating barriers to care.
House in the Woods attendees: Deanna House, Diane Freelove,Marie Sutherland, Farleen Smith and Luke House.
House in the Woods is a nonprofit organization offering outdoor programs to bring together small groups of active military, veterans, and their family members to relax, share, bond, and deal with the stress, loss, grief, and other emotions which can haunt the grieving soul. 
Nearly 10% of Maine's population are veterans.
Maine is outpacing the nation in veteran suicide, so our need to come together to address this issue is critical!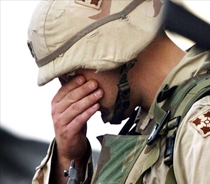 Often it isn't the initiating trauma that creates seemingly insurmountable pain, but the lack of support after.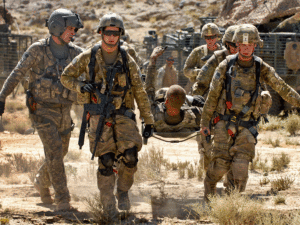 Combat PTSD is defined as a specific type of post-traumatic stress disorder experienced by men and women who have been in combat. Combat PTSD can happen to anyone in combat, from those that have experienced live fire to those who are support workers in a war zone area. 
Severe depression, suicidal thoughts, flashback episodes to a traumatic event, nightmares, migraines, anger, anxiety, and rages are all common symptoms.
 The hardest for family members to deal with is the fact the soldier appears not to  care about anything anymore.
The more educated we are about PTSD the more we can help those who are combat warriors and walk through our doors at the lodge.  They come for the camaraderie, for rest and for healing.  Many of our volunteers are veterans who understand first~hand the battle scars our men and women carry in their soul.

Look What's Coming in January The 8th Annual Ice Fishing Derby January 20th, 2018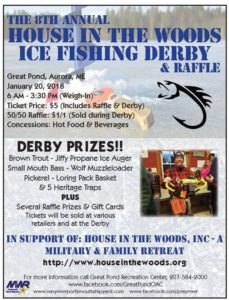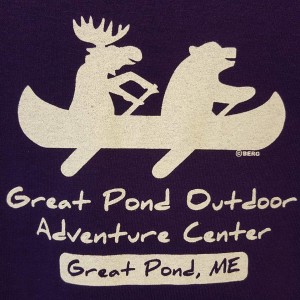 Last year THREE HUNDRED  hearty ice fishing enthusiasts  from near and far started to hit the ice from 6:00 a.m. thru 3:30 p.m for the 7th Annual Ice Fishing Derby to benefit House in the Woods!
In 2017,  the generosity of the attendees of the Ice Fishing Derby at Great Pond Outdoor Adventure Center, brought over $10,000 donations to House in the Woods!! The word is out: this year that this amount will be bested by the 2018 attendees!
Prizes for the longest fish will be:
Brown Trout: Jiffy Propane Ice Auger
Small mouth bass: Wolf Muzzleloader
Pickerel: Loring pack basket and 5 Heritage Traps. 
Bring the kids! Bring the wife! Bring the in-laws! All will have a tremendous time!! Just be sure to dress warm!!!
The entry fee for the derby is $5.00 which also enters attendees for a chance to win our fantastic prizes. And, there will be a 50/50 raffle.
Breakfast sandwiches, with bacon or ham, will sell like hotcakes!! Lunch time we will have homemade beef stew, chili, hot dogs, chili dogs, yeast rolls, lots of sweets …keeping warm and fueling up for more ice fishing in the afternoon!!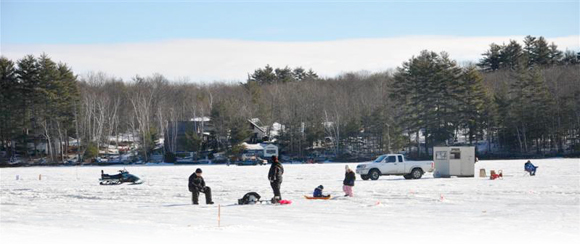 For more information please call Great Pond Outdoor Adventure  Center at 207/584-2000.

Blue Star Neighbors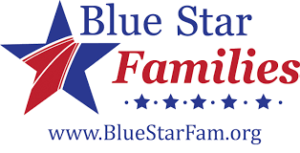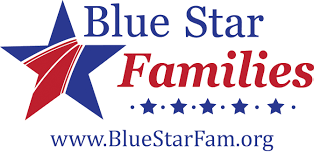 Our military, which deploys around the world to protect our nation, is an all-volunteer force. Together, our military service members and their families willingly make significant sacrifices to keep us all safe.
Our military's families are extremely proud to serve all Americans, and work hard to stay strong while facing the added burdens of military life. What keeps them strong is support from all of us – their Blue Star Neighbors.
House in the Woods loves to share with our readers some of the many organizations dedicated to assisting our military. If you have been considering that it's time to lend a hand but are not sure where or how, follow the link to their website above.
Being a Blue Star Neighbor is as easy as making a friend. Introduce yourself to the military family on your street. Ask how you can lend a hand – from having them over for a meal or assisting with errands to just being there whenever they need some kind of support. They'll be grateful – and you'll feel pretty great too. Plus you and your family will make new friendships that will last a lifetime!
Get more details at Blue Star Neighbors.

A Christmas Poem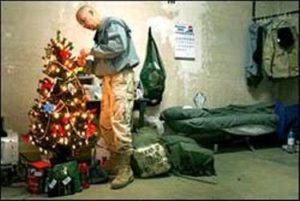 Twas the night before Christmas, he lived all alone,
In a one bedroom house made of plaster & stone.
I had come down the chimney, with presents to give
and to see just who in this home did live
As I looked all about, a strange sight I did see,
no tinsel, no presents, not even a tree.
No stocking by the fire, just boots filled with sand.
On the wall hung pictures of a far distant land.
With medals and badges, awards of all kind,
a sobering thought soon came to my mind.
For this house was different, unlike any I'd seen.
This was the home of a U.S. Marine.
I'd heard stories about them, I had to see more,
so I walked down the hall and pushed open the door.
And there he lay sleeping, silent, alone,
Curled up on the floor in his one-bedroom home.
He seemed so gentle, his face so serene,
Not how I pictured a U.S. Marine.
Was this the hero, of whom I'd just read?
Curled up in his poncho, a floor for his bed?
His head was clean-shaven, his weathered face tan.
I soon understood, this was more than a man.
For I realized the families that I saw that night,
owed their lives to these men, who were willing to fight.
Soon around the Nation, the children would play,
And grown-ups would celebrate on a bright Christmas day.
They all enjoyed freedom, each month and all year,
because of Marines like this one lying here.
I couldn't help wonder how many lay alone,
on a cold Christmas Eve, in a land far from home.
Just the very thought brought a tear to my eye.
I dropped to my knees and I started to cry.
He must have awoken, for I heard a rough voice,
"Santa, don't cry, this life is my choice
I fight for freedom, I don't ask for more.
My life is my God, my country, my Corps."
With that he rolled over, drifted off into sleep,
I couldn't control it, I continued to weep.
I watched him for hours, so silent and still.
I noticed he shivered from the cold night's chill.
So I took off my jacket, the one made of red,
and covered this Marine from his toes to his head.
Then I put on his T-shirt of scarlet and gold,
with an eagle, globe and anchor emblazoned so bold.
And although it barely fit me, I began to swell with pride,
and for one shining moment, I was Marine Corps deep inside.
I didn't want to leave him so quiet in the night,
this guardian of honor so willing to fight.
But half asleep he rolled over, and in a voice clean and pure,
said "Carry on, Santa, it's Christmas Day, all secure."
One look at my watch and I knew he was right,
Merry Christmas my friend, Semper Fi and goodnight.
Author: Lance Corporal James M. Schmidt, 1986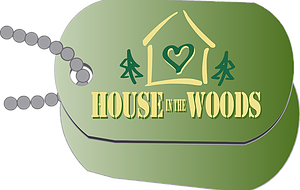 This (House in the Woods) is an amazing organization. When trying to guess what someone would like for a birthday gift, Christmas gift or any other gift, instead think about a donation in their name to House In The Woods. How about a donation in your child or grandchild's name as a stocking stuffer. 
There are so many good reasons to donate to this organization all of them being veterans and their families
🎄
🎄
🎄 Submitted by Shirley Thibedeau~Loffredo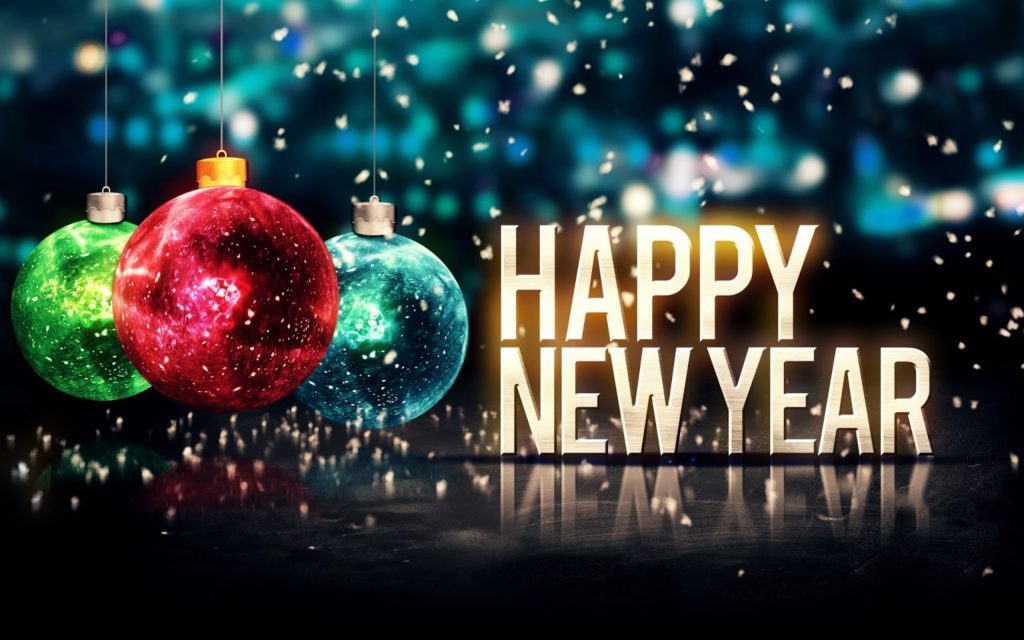 Happy New Year From House in the Woods
We would like to wish you a prosperous, happy and healthy 2018. Thank you all for your continued support of House in the Woods Military & Family Retreat. With your combined kindness, service, respect and dedication to our combat wounded and those currently serving in the United States Armed Forces, we have brought some peace, rest and relaxation as well as nurturing newfound friendships.
LIFE IS GOOD AT HOUSE IN THE WOODS!!!
House in the Woods
217 Skunk Hill Rd, Lee, ME 04455 
Tel: 207-738-4421  |  Fax: 207-738-4420
deannahous@houseinthewoods.org