Editors warning: this is a rather lengthy newsletter, as most have been as of late. But we always seem to have so much to share as there has been a lot going on at House in the Woods Military and Family Retreat that we knew you would understand. I hope you enjoy it and share this with friends and family.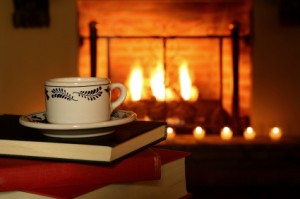 Put your feet up, grab a cup of coffee and read on…..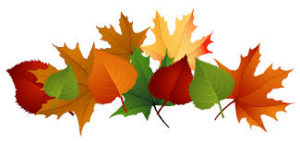 NOTICE: HOUSE IN THE WOODS HAS A NEW TELEPHONE NUMBER: 
207-738-VETS (8387)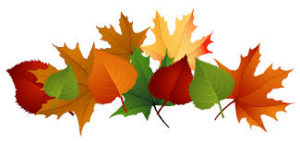 FALL IN NEW ENGLAND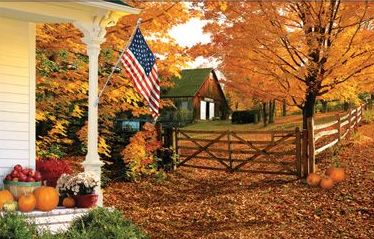 Fall is a favorite time of year for many of us. 
We are so blessed to live in New England to experience all four seasons. Mother Nature is at her best in the Fall as she has rid the area of humidity and high temps. 
She opens each new day with cool-nearly-cold mornings with dew sparkling on the grass, but graciously leaves the warm sunny mid~days and the evenings cool enough for a jacket.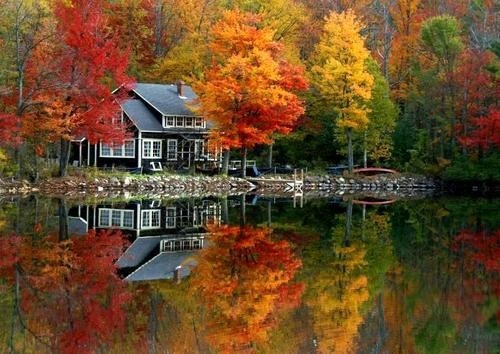 The summer residents, in many of our locations, have fled and there is barely anyone at the ocean beaches or at the lakes and ponds. This is the perfect time to stroll the shores, to fully take in the beauty of the red, orange and yellow of painted trees. Mother Nature at her best!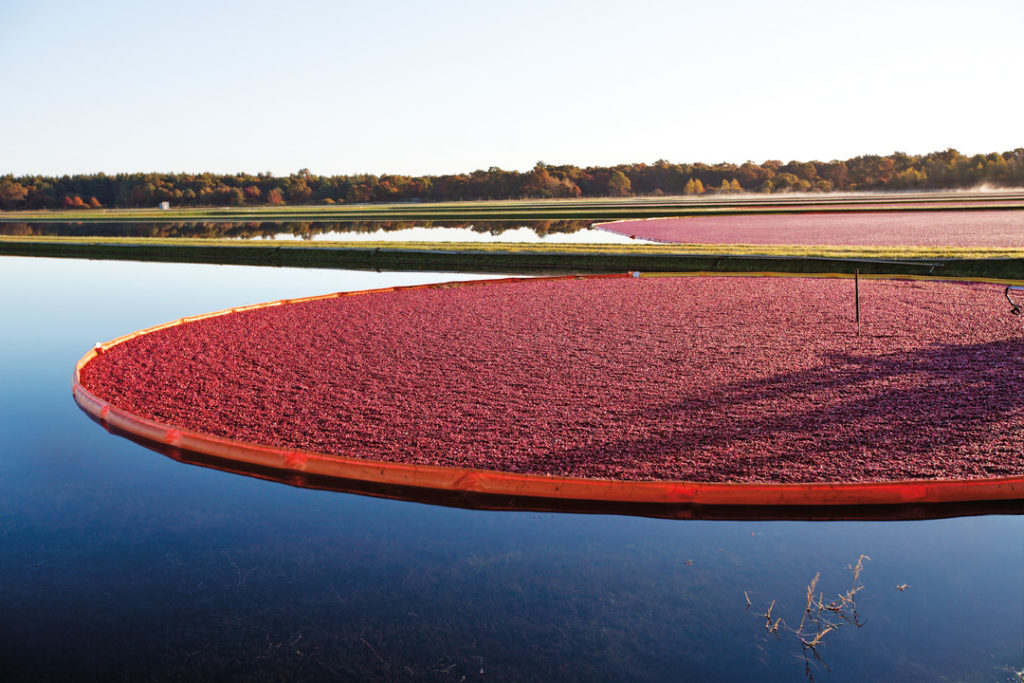 Down the street from my house it's cranberry harvest time! One of the most healthy fruits you can eat! My home state of Massachusetts has more than 14,000 acres of working cranberry bogs. The colors of the berries are so brilliant on those cool fall mornings as they float atop the bog ready for the harvest…….Brenda Everson~Shaw

Everyone enjoys the harvest!!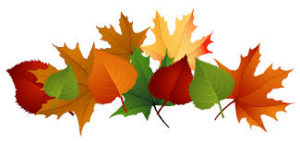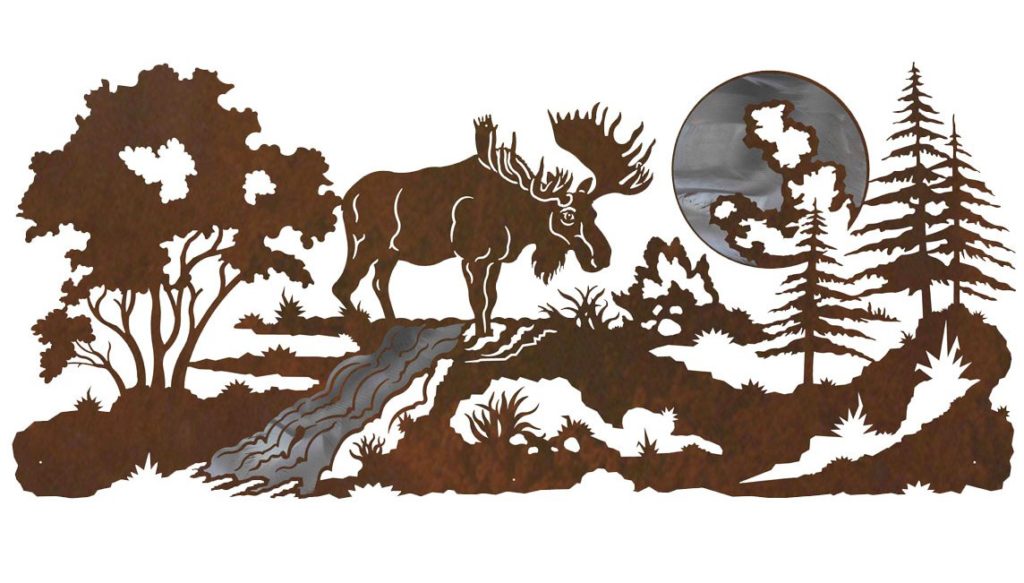 At House in the Woods, Fall Brings Moose Hunting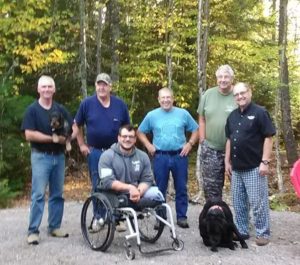 Left to right: Paul House with Turbo the dog, Deane Smith, Don Hazelton, Tom Orfe, and Dan Aiken with Buddy the dog.  Center, Sgt. Zachary Stinson, combat wounded Marine.
Our Awesome Maine Guides Who Honor Our Veterans With Each Hunting Experience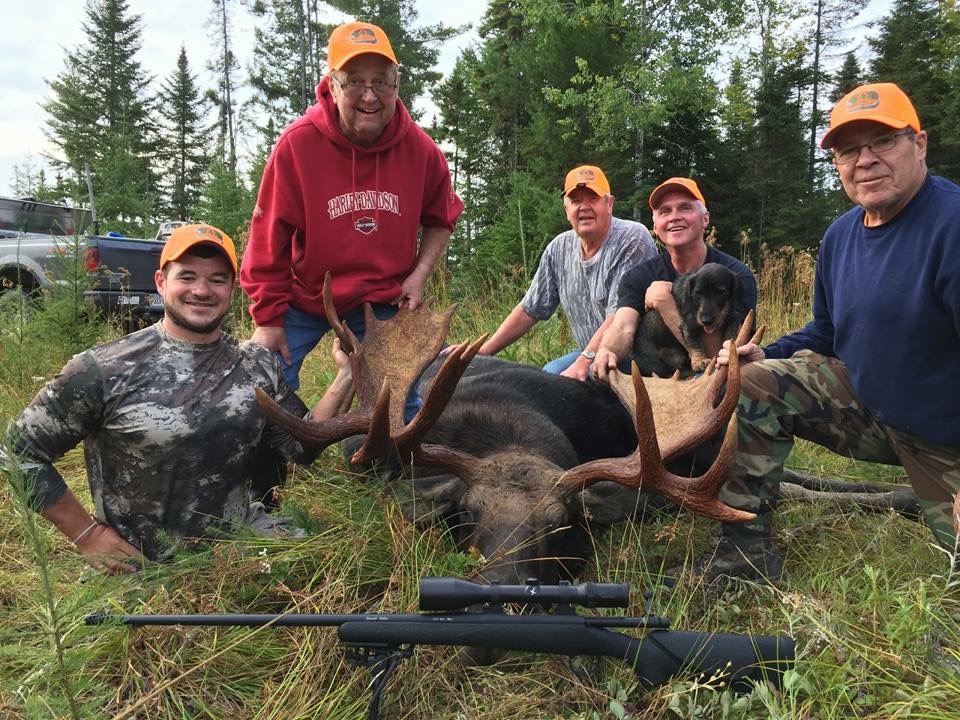 Left to right: Sgt. Zachary Stinson, Marine Corp veteran who harvested his moose on the first day of the first week of moose hunting. With Zach is Dan Aiken an avid supporter and great friend of HITW.  
Also included in this picture are guides: Deane Smith, Paul House, Don Hazelton and Tom Orfe, who is another Maine Guide but graciously missing from the photo as he took this picture. 
Dan Aiken's camp is on Pleasant Lake in the Maine North Woods This is a large, privately owned land where House in the Woods treks for the Moose Hunt.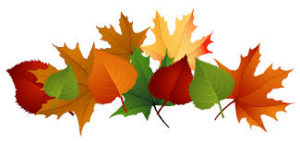 The Moose Hunt is a bit different than other organized hunts, such as the Black Bear Hunt. For the Moose Hunt, one must win a tag by lottery. The winner then can name a sub-permittee to hunt also. Deane Smith won the moose tag for the first week of moose hunting this year and named Sgt. Zachary Stinson as his sub-permittee. Zach came to HITW from Combat Marine Outdoors. 
We first met Sgt. Stinson at the Black Bear Hunt of 2016, again with Combat Marine Outdoors. Lasting friendships were established.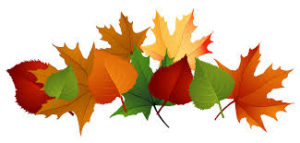 Unanticipated Results of a Moose Hunt
Marine Corps veteran Sgt. Zachary Stinson and 4th grader Kaelyn Cloukey, daughter of Justin and Jessica Cloukey of Lincoln, Maine became immediate friends in 2016 when they welcomed Zach to his first Black Bear Hunt with House in the Woods. A beautiful friendship that no one expected to become a nationwide story.
Please take the time to read the full stories behind this amazing friendship that took the nation by storm this month. It truly is inspiring. CBS and its' affiliates broadcast Kaelyn's and Sgt. Stinson's story nationally and internationally.
(Links to some of the coverage are below.)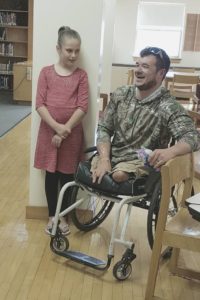 Little did one Marine Corps Vet know he would take away more than game from his hunting trips…..WABI-TV  Lincoln 4th Grader Reunites With Wounded Warrior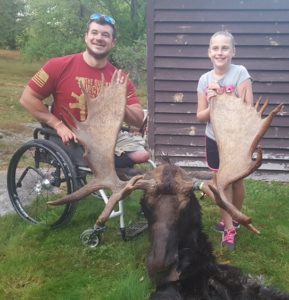 I hope the message of love and kindness goes viral…Jessica Cloukey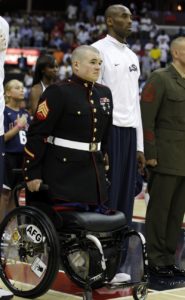 Marine Corps vet Sgt. Zachary Stinson stood using his arms during the national anthem at a 2012 Team USA basketball game. He's back in the news after developing a special friendship with a young fourth-grader in Maine…..Yahoo Lifestyle News
wounded warrior and a 4th-grade girl became friends on a bear hunt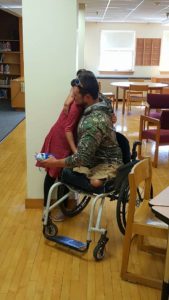 For this inured veteran, this year's moose hunt was more than just a hunt….Bangor Daily News   More Than a Moose Hunt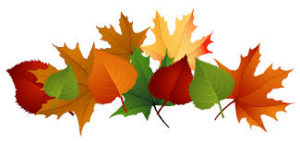 Week Two of Moose Hunting
Well folks, it remains a mystery at this moment. Monday, October 9, 2017 was our second week of moose hunting in western Maine near Rockwood. No pictures submitted and no long tales of the one that got away.….. at least not yet!!! (Fear not, none were lost in the wood of Western Maine as they all are back home.)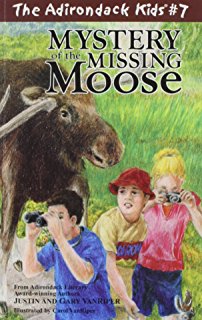 What we do know is that a generous veteran,  Art Bridges, donated his moose tag to Brandon Deaton, an Army, wounded combat veteran from Topsham, Maine and Combat Marine Outdoors as his sub~permittee.
But, as one who attempts to get ALL THE FACTS…I am still perusing this story!!!! Will have to continue to next month's newsletter!!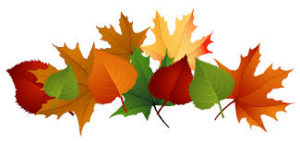 October 15, 2017 Three~Day Women Veterans Bird Hunting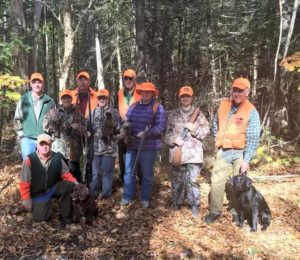 Fabulous time with our women veterans as guests at our lodge for bird hunting week.
Veterans joining us for the bird hunt:  Carrie Marple~Mancini, Annie Bachman, Kristina Sabasteanski and Aaron Green~Morse. Anne Martin Devin was also a guest hunter but had to leave prior to photos and television coverage.
Guides: Paul House, Sandy Heldman, Mike Hebert, John Fortunate, Rod Worcester and Robert Clark.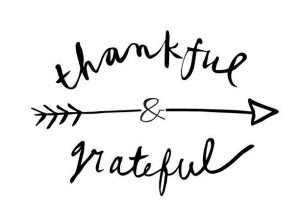 House in the Woods and all of us associated with this great military retreat, lodge, healing space in Lee, Maine want to tell ALL United States Women Veterans how deeply grateful and proud we are of each and every one of you. We hope you will make plans to join us soon.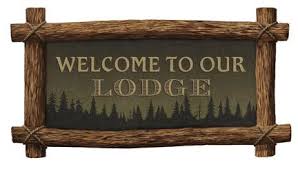 Mission Readiness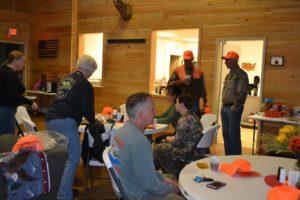 Coffee at lodge before a day of bird hunting.
The following quotes from the women veterans are courtesy of Taylor Kinzler, Anchor Reporter for WABI TV…Bangor, Maine
ATTENTION!!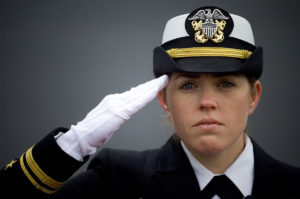 From one of the women veterans: We bond quickly. We talk about mom things, we talk about soldier things, we talk about family life and can find common ground to support each other, which is what you do in the military.
I don't think there's a common misconception, I think people just don't understand what drives and draws women into the military and then how to treat them both with the respect as a veteran and still understand that they served, too.
We are a small percentage in the military of female veterans. But we served and we did our mission and you know it's something we're proud of.….Erin Green~Morse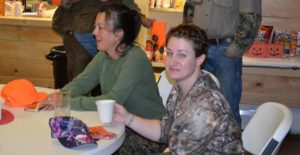 Kristina Sabasteanski shares: There's so many resources and awesome programs in Maine. And the more we can learn about different programs then we can pass these on to veterans.
Had a blast with these fun and strong women Vets! Paul, Dee and Debi were the best to make this all happen. Thanks again for everything! I now have another resource to share with other vets.….
This is my first time bird hunting. It's my first time hunting period. Quite an experience getting out there and learning how things work and watching how the dogs work.
Carrie Mancini shares: I haven't often had the opportunity to connect with a group of women who have been through similar situations and know exactly where I'm coming from.
Look out world…..these are some powerful women!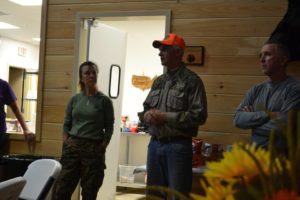 I want them to feel appreciated and loved… And you wonder if anybody cares what you've done. They do. They really do care….Dee House, Director of Administrative Services, House in the Woods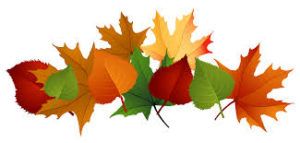 The Practice Range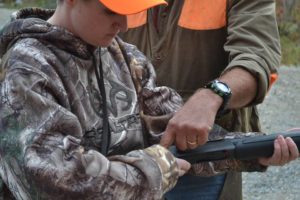 Know your weapon!
Just a refresher course for these veterans.
Create a solid stance. 
Ammo check.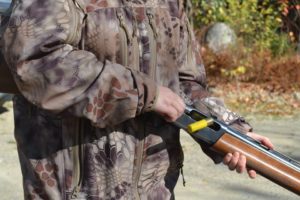 And in the Field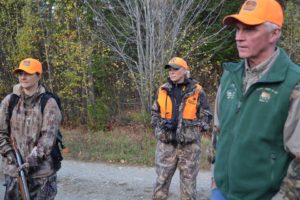 Paul House providing tips for finding the feathered friends.
Listen and watch for your target.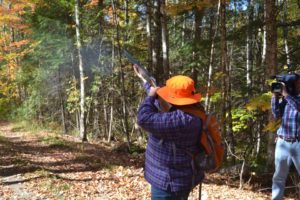 Take the shot!
Hunting With Women Veterans
A great day!!
Debi Gould shares:  Thank you ladies for coming and spending time with us!Thank you for making the time to come! I know how hard that is! So glad you enjoyed and nice shooting!
Kristina Sabasteansk shares: Had a blast with these fun and strong women Vets! Paul, Dee and Debi were the best to make this all happen. Thanks again for everything! I now have another resource to share with other vets.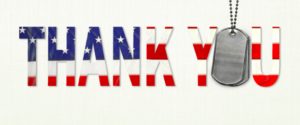 My fellow Americans, ask not what your country can do for you, ask what you can do for your country…..John F. Kennedy……
……..and these women DID for their country!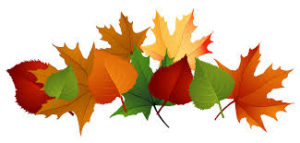 They Serve for Our Freedom and Liberties.
Each day our women soldiers put their lives on the line for us.

They are your daughter, aunt, sister, mother, or your best friend. Remember the girl next door? You always wondered what she did after graduations! Well, boys and girls….here she is!!
An American Soldier!!!

Women pilots and women infantry have been around for a while! But often one has to do some digging to find the information.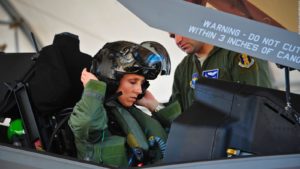 Air Force
 Lt. Col. Christine Mau flew combat missions in the F-15 Strike Eagle in Afghanistan. In May, she became the first woman to fly the                        F-35 Lightning II jet.
Female pilots WWII Original Fly Girls.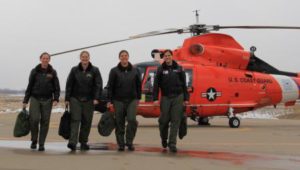 Coast Guard
Female members of Coast Guard Air Station Detroit  recreating a famous photo of World War II female pilots, Fly Girls which is posted above.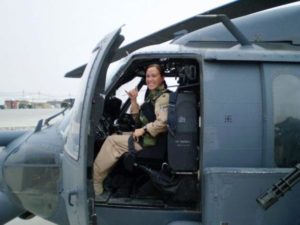 National Guard
Maj. Mary Jennings Hegar, a former helicopter pilot for the U.S. Air National Guard sits in the co-pilot seat of a helicopter in Kandahar. She served three tours in Afghanistan and is only the second woman, after Amelia Earhart, to get the Distinguished Flying Cross with a Valor Device.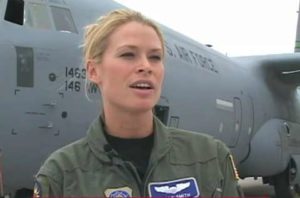 Air Force
Kelly Smith, She flies the C-130 Hercules transport aircraft for the Air Force.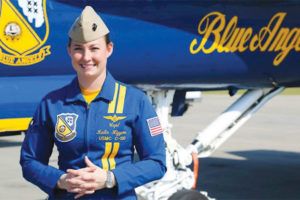 Navy
Marine Capt. Katie Higgins, the first female pilot with the U.S. Navy  Blue Angels.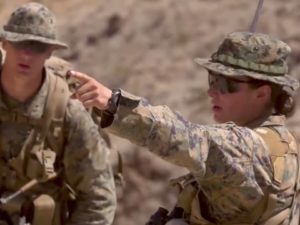 Marines
A female Marine graduated from the Corps' grueling Infantry Officer Course. The woman, who has asked to keep her identity private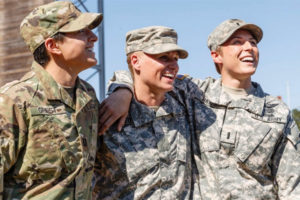 Army
Army Capt. Kristen Griest, center, is one of the first women to graduate U.S. Army's Ranger School.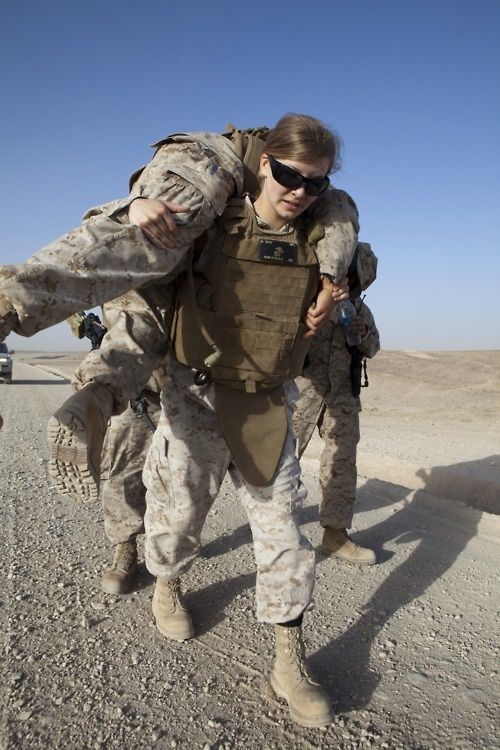 U.S. Marines Cpl. Kelly Campagna carries Cpl. Lance Rowewood during a corporal's course five mile hike in Helmand Province, Afghanistan, May 30, 2011.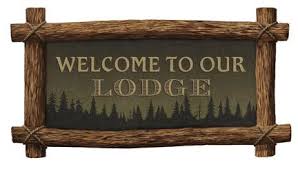 At House in the Woods many new, lasting friendships develop in a relaxed, welcoming lodge found deep in the wood of Maine. Veterans are simply able to be themselves among their brothers and sisters who know exactly where they are coming from. It takes a vet to truly understand another vet.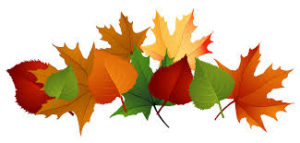 A Huge Thank You to NeoKraft!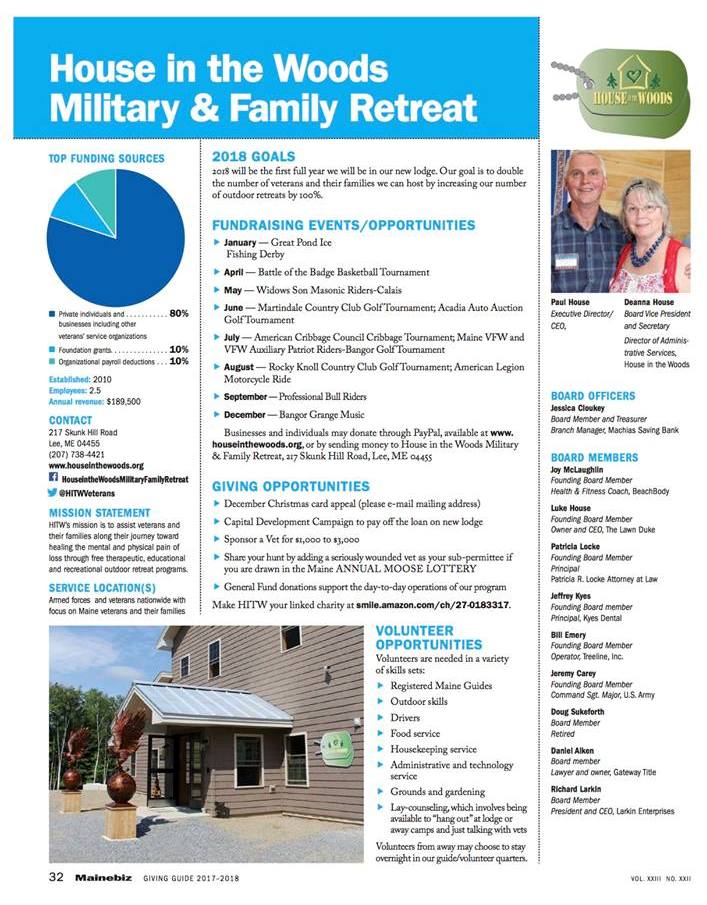 How exciting! Pat Bolduc and his NeoKraft business paid for a 2-page spread in the Mainebiz Giving Guide. It looks so awesome and makes me so proud to be a part of House in the Woods. And I'm so grateful to NeoKraft. If you are in our Supporters' Circle ($5,000 donation or more in the past 3 years), your name is featured at the bottom of page 2. This is a small way to show our appreciation for your donation…..Deanna House, Director of Administrative Services, HITW
It is through such continued generosity of individuals and businesses that House in the Woods is able to provide the lodge for all veterans of all wars from every state in these great United States where we call "home".
Whether it is a one~time gift or a sustaining gift for our combat wounded, every dollar is essential to our budget to keep the programs going.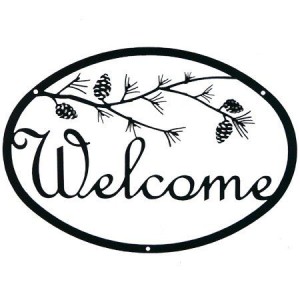 We invite you to stop by our beautiful lodge to see firsthand the amazing progress we have made, all from the generosity of those who want to do something to help the men and women who have served and those who are serving every day for our freedom and liberties.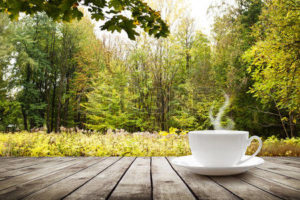 Come on by! The coffee is hot and the company is great!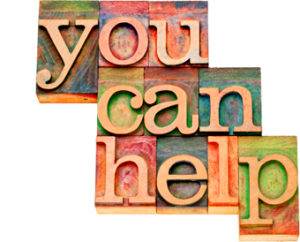 You can help House in the Woods build a solid foundation. Your investment in HITW future will help to ensure that our programs remain vital and serve our future generations. Please help us to provide help, hope, and healing to veterans and their families. Click on the link below to see the various ways you can get involved.
House in the Woods Military & Family Retreat is a vision a man had whose son paid the ultimate sacrifice in Iraq. This vision has become a reality.
Much of which has been realized through the generosity of those who want to do something,  to help in some way. To honor the men and women who have served and those who are serving every day, for our freedom and liberties, and to honor those who did not return home to join in the construction of this lodge.
Every day we honor all those men and women with a smile, a tear and a tug at our hearts…..they are the "best of the best"…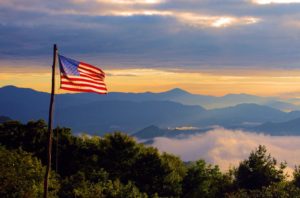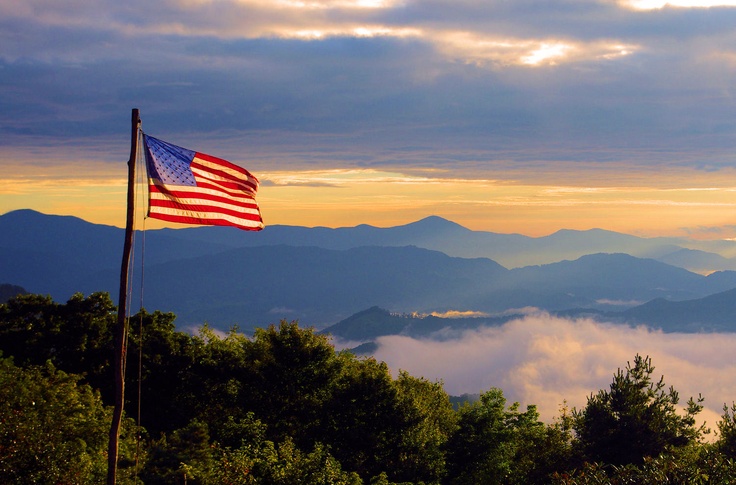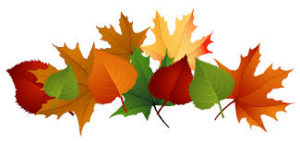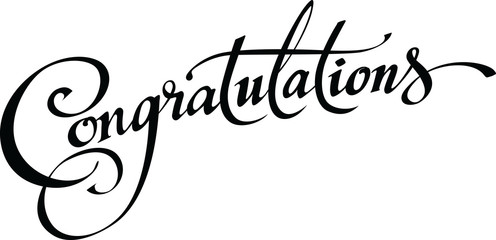 Congratulations to Paul House,

Executive Director of House in the Woods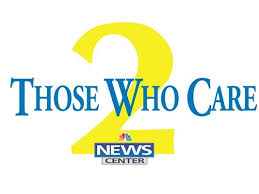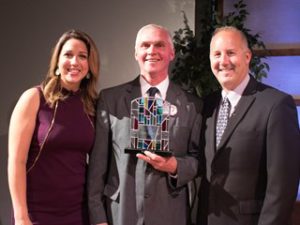 On October 5, 2017, WLBZ2 Bangor, Maine presented Paul House with the Those Who Care Award.  A primetime one-hour special hosted by NEWS CENTER's Lee Goldberg and Amanda Hill will air on WLBZ2 on October 14 at 8:00 pm. Click the following link to see full article and video on the WLBZ2 web of Paul's presenting how House in the Woods became a reality.   
Paul House Those Who Care Award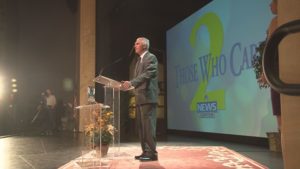 Vietnam veteran Deane Smith wrote: Paul took a very tragic event of the loss of his son to help heal the physical and mental scars of veterans from all over America.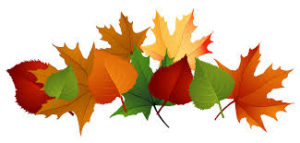 October 10, 2017, Deanna House spoke at Tuesday Forum, Maines largest women's networking group. Tuesday Forum is a networking organization for working women offering support and the opportunity for business and personal growth.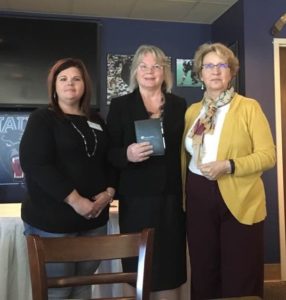 It was such an honor to have Dee share the story of the loss she and Paul endured when their son, Sgt. Joel Amos House, was killed in Iraq, how they turned it around and have reached hundreds of veterans through House in the Woods.
It takes a tremendous amount of faith, courage and commitment to start a non-profit organization for veterans. A lot of energy, a lot of praying and a lot of shaking of hands.
Meeting our wonderful veterans and opening the doors to the lodge to welcome them in, spend some time with Nature and just heal with all that the wood and water of Maine offers….this is what it's all about and it makes all the hard work so worth the time and effort.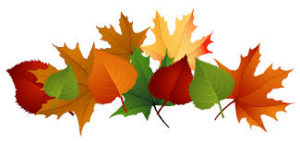 Combat Veterans Motorcycle Fallen Soldier Ride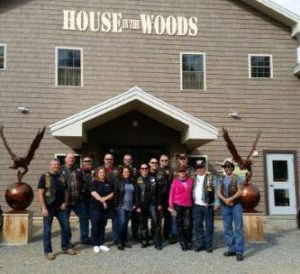 Combat Veterans Motorcycle Riders held another ride in and made a very generous donation. Thank you, everyone! This was their annual Fallen Soldier Ride to benefit House in the Woods and the Maine Veterans Home in Bangor. We love hearing your bikes coming up the road to the lodge!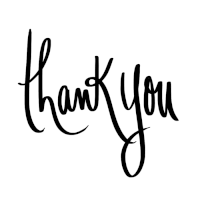 The Summit Project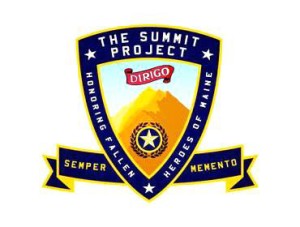 Honoring Fallen Heroes of Maine
October 14, 2017 Cadillac Mountain, Bar Harbor, Maine
Kaelyn Cloukey had the honor of carrying Sgt. Joel Amos House's stone to the top of Cadillac Mountain. Again, this amazing young lady displays the values and great spirit her parents have instilled in her and her younger brother Blake.
As Jessica Cloukey shared with me: We just give back what we can. We want to raise children who are productive citizens, who volunteer when they can. We want them to know how important it is to give back to others.
This has been an incredible experience to share with my daughter. Her preparation was diligent, her complaints were ZERO, her speeches were prideful and her passion was evident. To say I'm proud of this young girl is an understatement…..Justin Cloukey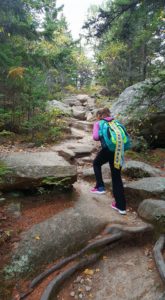 Kaelyn Treking up the mountain with Joel's stone.
No person was ever honored for what he received. Honor has been the reward for what he gave.            

Justin Cloukey and daughter Kaelyn.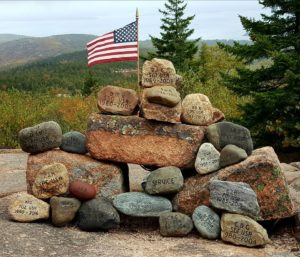 At the top of the Cadillac Mountain, they held a circle ceremony at which time each hiker described their soldier and told his/her story to all the other hikers, sharing what they discovered during their research.  After the descent from the mountain, family members who have been awaiting the hikers, gather in circle.
The carrier of the stone takes their turn presenting the stone to a loved one of the soldier. Kaelyn Cloukey handed the stone of Sgt. Joel House over to his mother,  Deanna House, simply saying; I had the honor and privilege to carry the stone and story of Sgt. Joel Amos House US Army.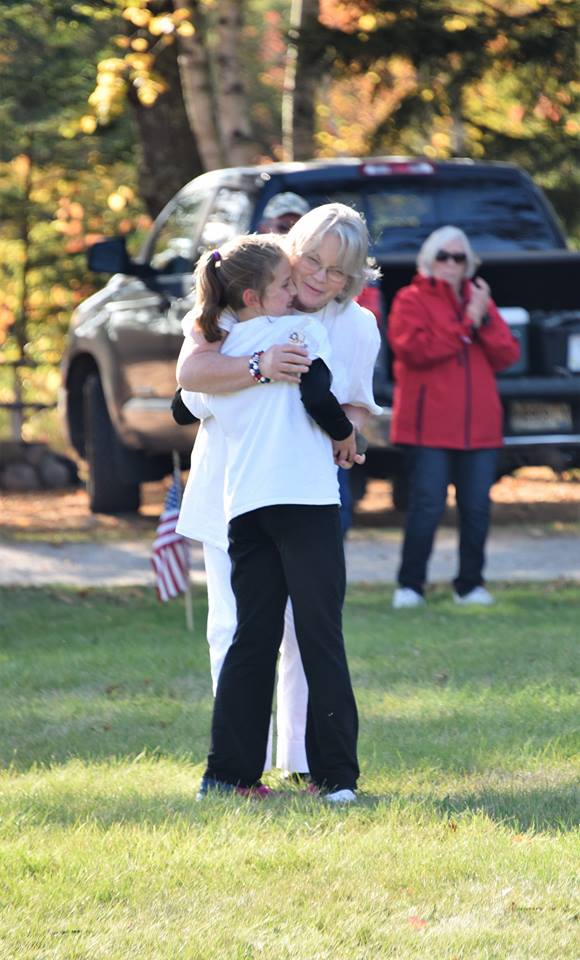 Deanna House receiving her son's stone which Kaelyn carried on her hike up Cadillac Mountain.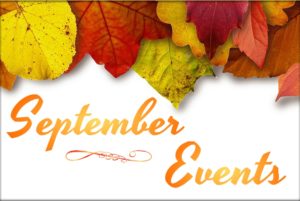 Here are a few of the happenings last month.
PBR is the Professional Bull Riders Velocity Tour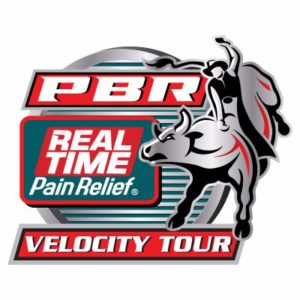 September 22, 2017 
Cross Center for Professional Bull Riders, Portland, Maine
Tribute to House in the Woods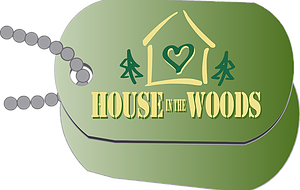 Opening ceremony paying tribute to House in the Woods and all veterans.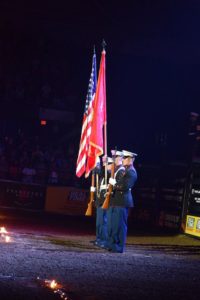 Bull Riding!!!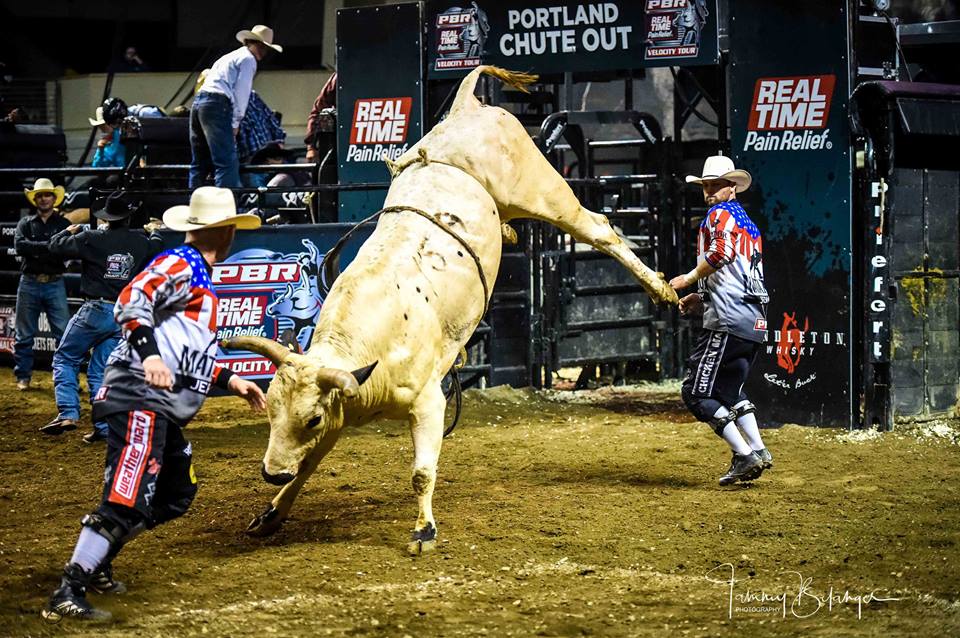 Matt Merritt of Matt Merritt Entertainment with the PBR Velocity Tour.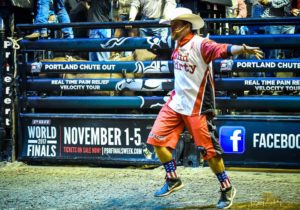 When the bull is loose after the ride, Matt is the man you want out in front!
Matt, the rodeo clown, has the huge task to distract a 2,000+ pound angry bull from going after the cowboy. That's no easy job. It takes a daredevil. A man who can move fast!! That, ladies and gentlemen, is Matt Merritt!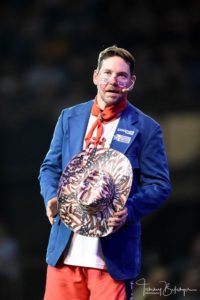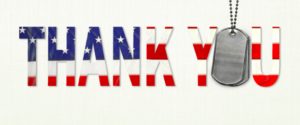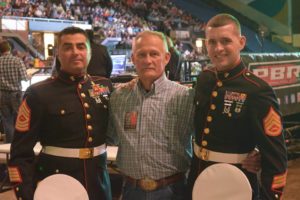 Left to right:  Mario Real, Michael Gould, and Drew Roberson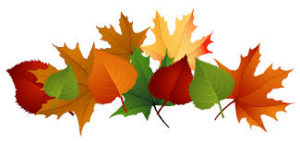 September 24th, Gold Star Mother's Day
Deanna House, Gold Star Mother, Director of Administrative Services, House in the Woods Military & Family Retreat shares: Today is Gold Star Mothers Day. I send out prayers and love to all moms who have lost their child in war, including those children who brought the war home with them and ultimately fell to suicide. I also pray for the mothers of our enemies. I dream of a world devoid of war where we can all sit down together over coffee and proclaim "let their be peace on Earth and may it begin with us!"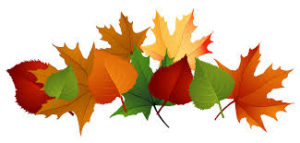 That Day in September Etched in Our Souls Forever
September 11, 2001, I was on the phone, at work, speaking with a client. We were discussing when the next phase of construction on her home's addition would begin when she suddenly screamed, "Oh my God Brenda, we're being attacked".
What seemed nearly immediately after, we all heard the unbelievable news alert that the Pentagon had taken a direct hit by yet another aircraft.  Minutes later the news broadcasted another aircraft had crashed in a field in Pennsylvania.
This was the fateful day which would begin the future of our losses of many young men and women going into battle on a foreign land far away.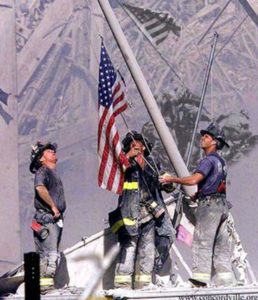 Our flag being hoisted by three firemen working "the pile", the ruins where so many lives of their brother firemen, civilians and people from all walks of life…all lost that fateful morning.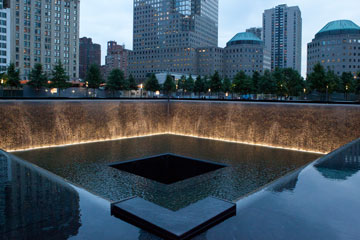 Where once rose the twin towers of New York, our Nation has made that a sacred ground with the 9/11 Memorial and Museum.
The Children Honor 9/11
There wasn't a dry eye in the building (at the HITW lodge) on 9/11 when students from Mt. Jefferson Jr. High came to sing for our veterans who were our guests for a week of hunting and many of our local veterans who stopped by to remember those lost.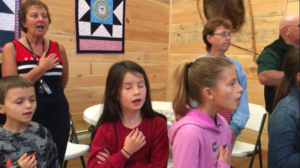 The group of children sang, in those precious voices that only young people possess,  Star Spangled Banner, God Bless the USA, and God Bless America.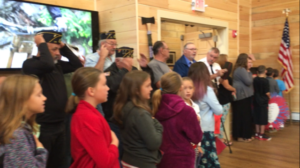 All joined in for the Pledge of Allegiance to our beautiful flag of the United States of America.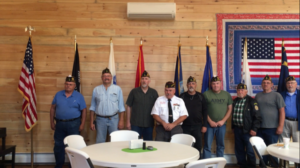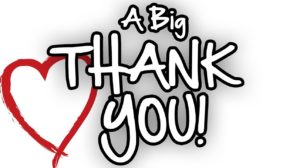 The children made Thank You cards which they presented to the veterans. At 8:46 a.m. we participated in a nationwide moment of silence for the fallen at 9/11.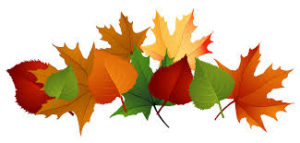 Some of Our August Fun!!
American Legion Ride August 19th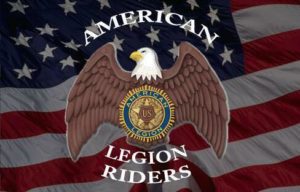 Always a great day for a ride!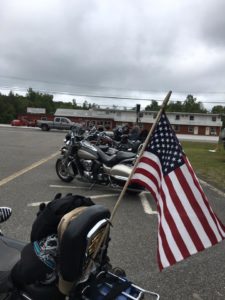 Thank you for your continued support to House in the Woods.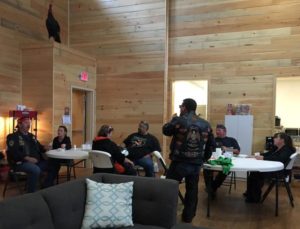 Coffee break at the lodge.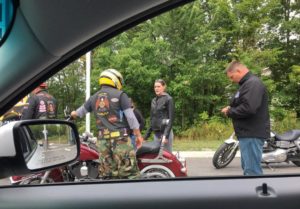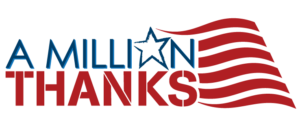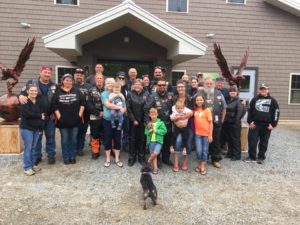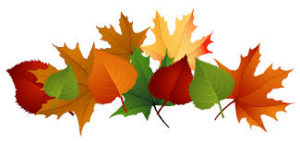 Rocky Knoll Golf Tournament August 19th
Orrington, Maine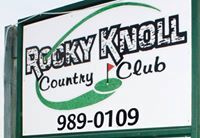 Rocky Knoll would like to extend a huge THANK YOU to Tom Bryant, Barbara Bagley CPA, David Libby, Advanced Auto Parts, all the sponsors, and all the players who helped make the House in the Woods Tournament so successful!! With your support, we were able to donate over $2000 to help our servicemen and servicewomen!! There were no hole in one winners, but there were many winners, just the same!……Rocky Knoll Country Club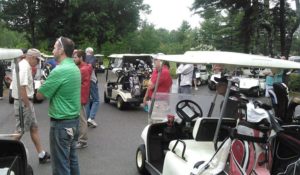 Attendees at Rock Knoll Country Club who are glad the rain held out for the day to play a round of golf in the fundraiser for House in the Woods.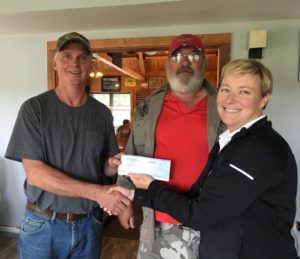 L.-R: Paul House, Tom Bryant and Barbara Bagley. Rocky Knoll tournament raised over $2000 for House in the Woods.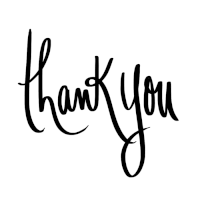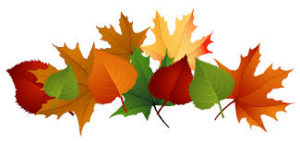 Demolition Derby "Representatives"
August 31, 2017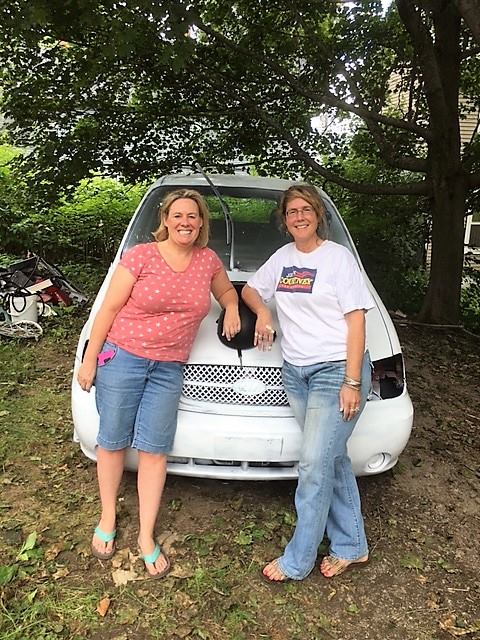 August 31st at the Windsor Fair in Maine, two of our terrific (and very gutsy) Republican State Representatives drove in the demolition derby at the fair, raising money for two outstanding organizations. Deb Sanderson (pictured on right) raising money for SSG Travis Mills Foundation and Stephanie Hawke (pictured on left) raising money for House in the Woods.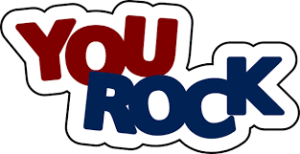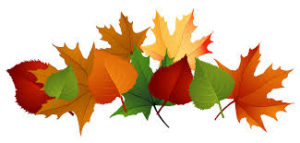 Gifts to House in the Woods Lodge
Mike Lafluer brought a gift to at House in the Woods!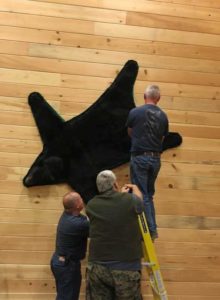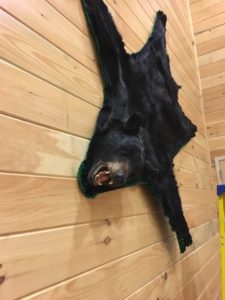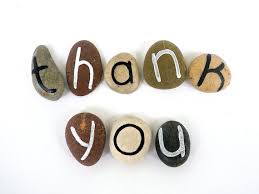 Such a gift from Mike is perfect for September as it was the first week of Black Bear Hunting!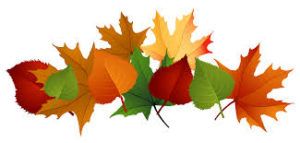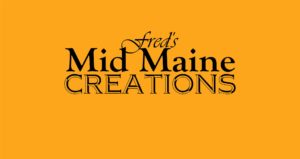 Fred Ireland, of West Enfield, Maine made these great cornhole boards for the guests to have some fun and some friendly competition while at House in the Woods. He is a mason by trade and does amazing stone work. In addition he has recently started a side business of making wooden items.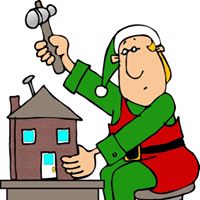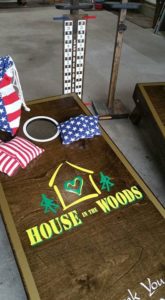 Fred has been wanting to contribute something to House in the Woods. Results are great: custom made  cornhole game!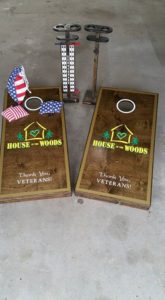 Donating to House in the Woods is a family thing! Fred's wife Renee, is the general manager at Olive Garden in Bangor.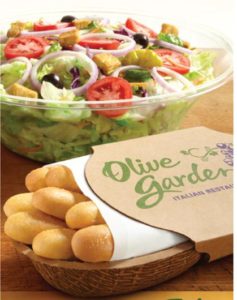 For the past two years Renee has donated free salad and bread sticks for a meal during each bear week. You know the veterans clean their plates with this favorite!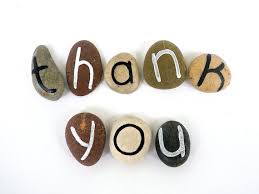 ATTENTION: HOUSE IN THE WOODS HAS A NEW TELEPHONE NUMBER: 
207-738-VETS (8387)
House in the Woods offers various hunting, fishing, and recreational programs throughout the year for active military, veterans, and their family members, in the great wilderness of Maine.  All food and lodging is provided at NO COST to our participants.  Contact us for more information.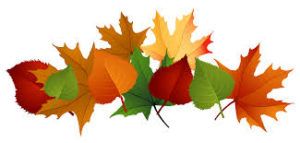 INTRODUCING, THOSE CARING FOR OUR MILITARY FAMILIES AT HOME
While our men and women are deployed throughout the world, there is (very often) a spouse and children at home base who have relocated many times when the active duty parent is sent on a mission. When the orders come in from the Armed Services it is often off to a new state, new schools for the kids, new job for the spouse. It can be a stressful situation for all. Civilians who have not served, really have no idea how the military family lives. We ask that you take the time to find out.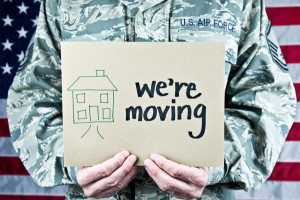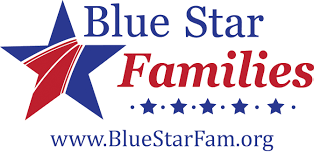 If you are active military we hope you have discovered Blue Star Families! If not yet, we have provided their link below.
This is a fabulous nonprofit that is so very committed to helping military families.
Or, if you would like to reach out to help the active military families there are many opportunities on the Blue Star Families website to volunteer or make a donation. They are such great advocates for those men and women serving and their families who are at home base.

THIS IS THEIR STORY
In April of 2009, a group of military spouses got together in the hopes of making a difference in the lives of military families. They knew the issues surrounding military families and saw a need for a platform where military family members could join forces with the general public and their communities to address the challenges of military life.
Since then, BSF has grown from a few military spouses around a kitchen table to more than 150,000 members and over 35 communities and chapters around the globe. Our programs and services reach more than 1.5 million military families every year.
We strengthen military families every day. Through career development, caregiving, and our leading research on military family life, we're striving to better understand and provide solutions to the challenges facing today's military families.
Frequent moves, deployments, and transitions can make life hard for military families. Blue Star Families provides free resources, services, and opportunities to more than 1.5 million military family members annually—making military life more sustainable.
MILITARY LIFE IS HARD. IT'S HARDER THAN IT NEEDS TO BE….
Each year, our local chapters and national team designs hundreds of events for our members.
Join our network. It's free.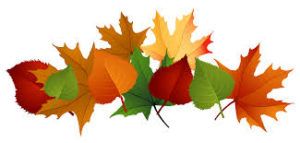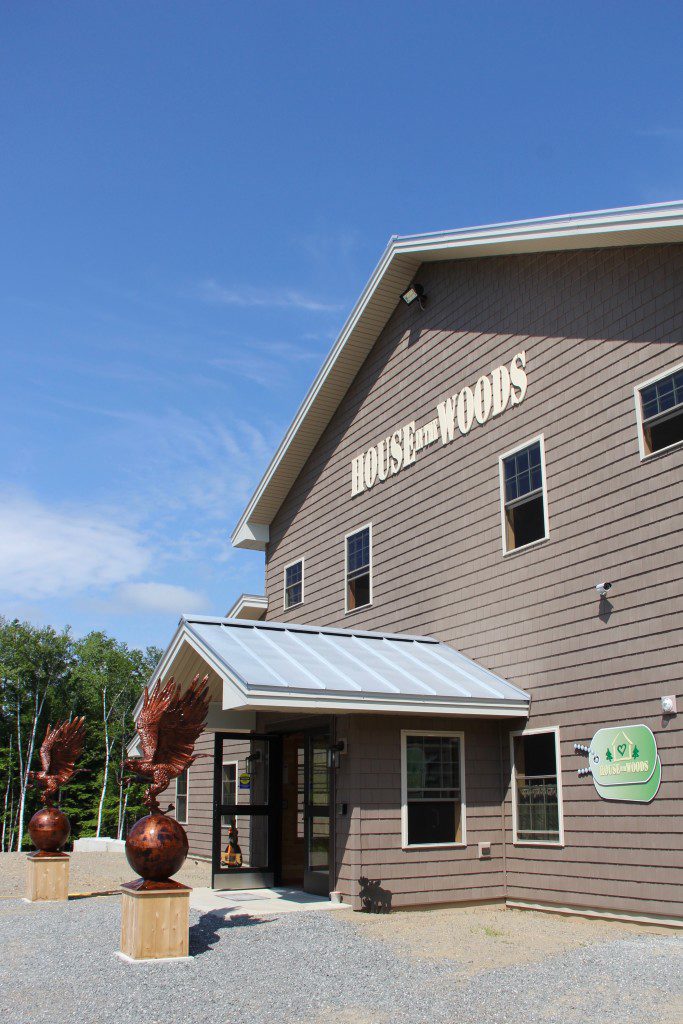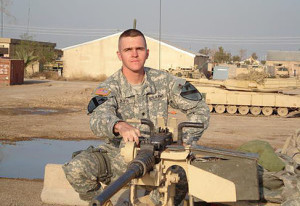 Leave no man behind, on the battlefield or at home.