November 11, 2017 is     Veterans Day

Veterans Day is a U.S. legal holiday dedicated to American veterans of all wars. In 1918, on the 11th hour of the 11th day of the 11th month, an armistice, or temporary cessation of hostilities, was declared between the Allied nations and Germany in World War I, then known as "the Great War."
Commemorated in many countries as Armistice Day the following year, November 11th became a federal holiday in the United States in 1938. In the aftermath of World War II and the Korean War, Armistice Day became legally known as Veterans Day.
It Takes a Veteran to Understand Another Veteran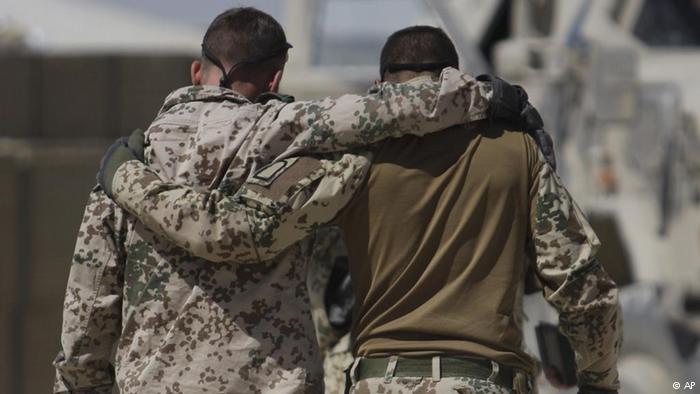 As one soldier speaks of his loss of his brothers-in-arms, others join in to share memories.
This is a typical conversation heard among veterans who have been guests at House in the Woods, a therapeutic, recreational, and educational retreat for our nation's U.S. armed forces and their families.
These are our men! Our boys! Our sons! Our husbands! Our brothers! Our women! Our daughters! Our wives! Our sisters! These are our veterans who traveled to foreign lands to defend the life and liberties of many.
There is the good: "He always had my back"….there is the bad: "Man, we never knew what hit us!"…….the brother sitting next to him offers a huge hug and tears are shared. This is a healing process that often takes place in the middle of the wood in Lee, Maine at House in the Woods where Together We Heal.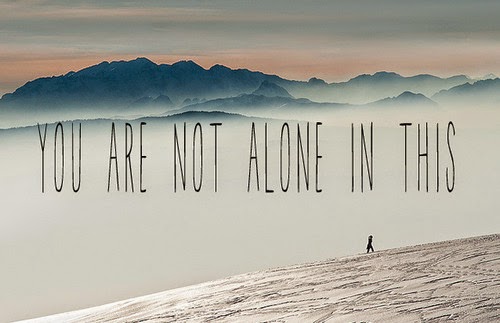 A Tribute From a Vietnam Veteran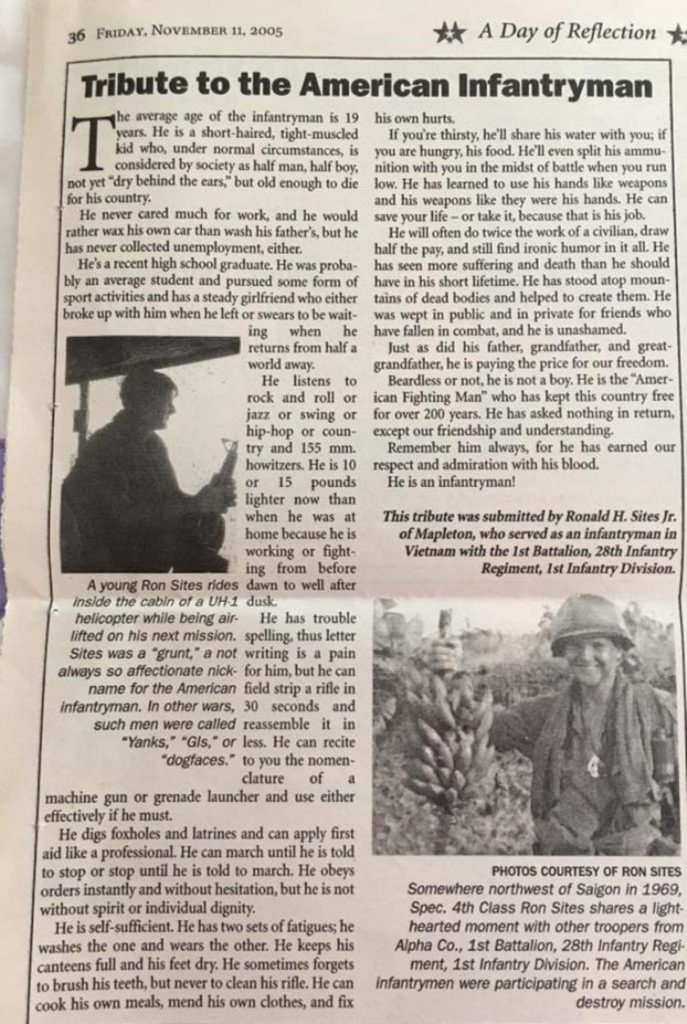 Copy of an article written by Ron Sites in 2005, Vietnam Veteran from Mapleton, Maine. This is an excellent piece by a local Mainer, a proud American who served his country and who saw the other side of the world as a young soldier in Vietnam.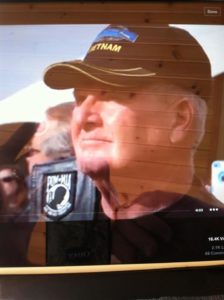 Ron Sites from Mapleton, Maine.
Ron shares:  I went on a fishing trip with House in the Woods to New York a few years ago. Caught some nice fish and had a great time.

 We honor and love our Vietnam Veterans who had a less than honorable "Welcome Home" when they returned from the war that took over 5,000 American soldiers lives.
 It is many of these veterans who are now helping our combat wounded and those suffering with PTSD, in Maine and natural habitats to help participants share common challenges related to their service and sacrifice in protecting our nation's freedom and democratic ideals.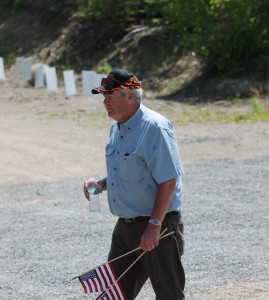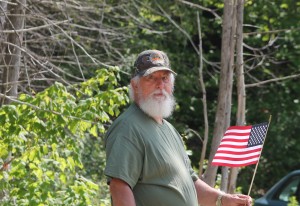 Richard Harriman, Vietnam Vet and Dean Smith, Vietnam Veteran

.
 These senior veterans who are volunteers at House in the Woods never want our young troops to be treated in the manner in which they were in the 60's.
Our volunteers interact with the veterans and their families attending the events . A great number of volunteers for House in the Woods are veterans themselves.
It takes a veteran to truly understand another veteran!
Since the inception of House in the Woods so many people have come forward as volunteers. Those who have that understanding of the military life, of our veterans and what they sacrificed, of our families who have found themselves with the title of Gold Star Families. 
We are so blessed to have such a great, dependable and committed group of volunteers who all understand and believe in our mission.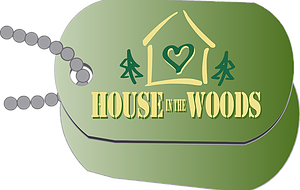 The House in the Woods Military & Family Retreat's Mission is to create a therapeutic, recreational, and educational retreat for our nation's U.S. armed forces and their families, using outdoor wilderness activities in Maine and natural habitats to help participants share common challenges related to their service and sacrifice in protecting our nation's freedom and democratic ideals.

Maine WWII Women Army Corps Thanksgiving at the US Army Airfield, Presque Isle, Maine Photo 1943.
Bob Cobb  served in Italy during WWII.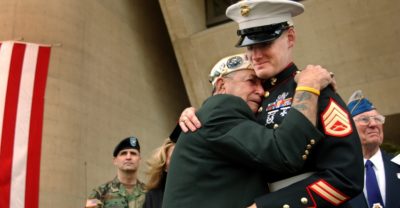 Pearl Harbor survivor Houston James of Dallas is overcome with emotion as he embraces former Marine SSgt Mark Graunke, Jr. of Flower Mound, Texas during the Dallas Veterans Day Commemoration at Dallas City Hall. SSgt Graunke, Jr., who was a member of a Marine ordnance-disposal team, lost a hand, leg, and eye while defusing a bomb in Iraq in July of 2003.

Some Gave All, All Gave Some
  My name is Brenda Everson~Shaw, an American citizen, from an American Military Family who proudly supports and prays nightly for all our troops. We pledge our allegiance to our Flag, stand for her when she passes by and our veterans and armed forces salute her whenever she is in sight. 
This handsome, young soldier with the most gorgeous smile, is another reason I support all military, their families and loved ones, as well as all veterans who stood up, took the oath and served our country. 
This young man is my great-nephew, Pfc. Matthew Bean of the United States Army. My sister's grandson. Matthew fought for my freedom, your freedom and the freedom of all United States citizens.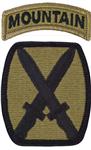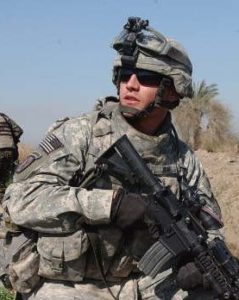 May 19, 2007 KIA:
Army Pfc. Matthew Bean of Pembroke, Massachusetts was shot by a sniper in Iraq. He was 22 years old.
A member of the Army's 10th Mountain Division, Matthew was shot May 19 during a door-to-door search for three captured U.S. soldiers in the Sunni Triangle. The missing soldiers, taken in a May 12th ambush, were members of Matthew's unit. 
In his senior yearbook Matthew wrote: 
 Those who hope in the Lord will renew their strength. They will soar on wings like eagles; they will run and not grow weary……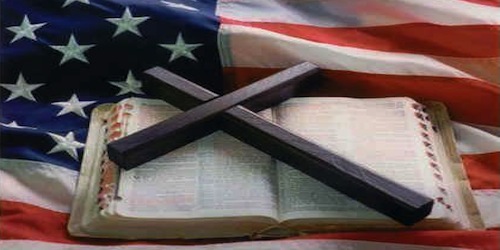 I was presented with the news November 3, 2017 from one of my grandsons, who is also Army, that he is being deployed to a classified destination.
The beat goes on for my family…the young step up to provide for our freedom and our liberties. You tell yourself you get accustom to this, being part of a military family. But if we parents, grandparents, wives & children, siblings and friends admit it….we NEVER get used to those first few words…I'm being deployed! 
In Honor Of These Great Men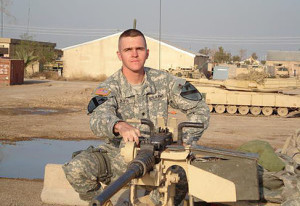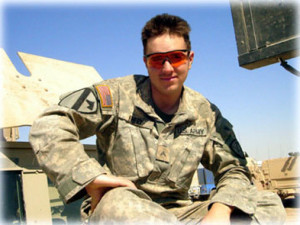 SSGT, Joel A. House
SSGT. Blair Emery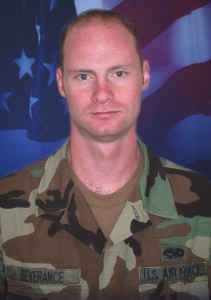 SSGT. Michael Severance
All of these young men mentioned above stepped up and volunteered to join the Armed Forces. They are very dear to our hearts, those of us at House in the Woods.
Each of them have our gratitude and love. We miss them all every day and pray for their families. It is men such as these who should inspire you to walk up to a veteran and shake his/her hand to thank them for their service to our country.
It is because of men such as these that we, at House in the Woods, are very excited each time we meet a new veteran who is coming to our lodge for some great R&R of hunting, fishing, or just being by the campfire.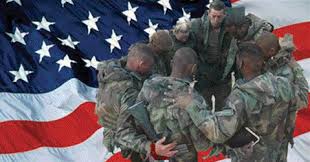 Some return annually and some are first-time visitors. Each receives a warm hug and and understanding heart from all who spend time with them at our lodge.
We have a large, extended family now of men and women who have served our country or are currently out there defending our country! In all honesty…one could not ask for much more…….
Check our website for future events.      House in the Woods
We'd love to have you visit, get to know us and enjoy the clean fresh air of Maine. Great food and beautiful sleeping quarters! Remember, all accommodations and meals are free for veterans, active military and their families.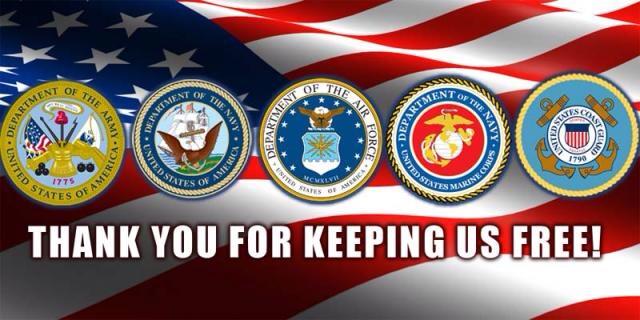 We all need to be grateful for all who serve, those who paid the ultimate price and those who have returned as combat wounded, both physically and emotionally.
Keep in mind the new veterans are all from the honorable group of men and women who VOLUNTEERED  for the Armed Forces. They were not drafted as were my friends when Vietnam was in full force. Our young, responsible, and love-my-country young Americans have come back wounded with loss of limbs and most suffering from PTSD.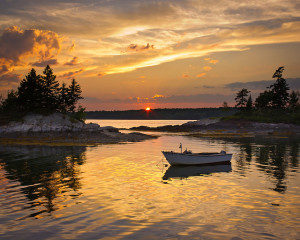 Whether participants are sitting under the countless stars on a cloudless summer night or reflecting on their own reflections in the glass-like stillness of a Maine pond during a 4:00 a.m. summer sunrise, there is a therapy in realizing one's enduring place in eternity. As participants face the outdoor challenges presented by Mother Nature herself, they will derive a sense of accomplishment, find, through exercise, a release of stress, and have the opportunity to talk and share with one another the laughter, memories, sorrow, service, and pride, among many other common bonds.
Deanna House, Director of Administrative  Services,     
House in the Woods, Lee, Maine 

Kristina Sabasteanski
Another Veteran helping her fellow veterans heal at Pineland Farms in New Gloucester, Maine.
Kristina served 10 years in the VTARNG and Army. She left as a SGT. Kristina was stationed in Jericho, VT when she was with the VTARNG. She then became part of the unit Title 10 Army Tour representing the Army in the 1998 and 2002 Olympics in the Biathlon event. Her head quarters was the Pentagon and then Colorado Springs, also training all over the country at different times.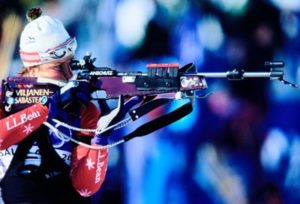 Biathlon competition.
Biathlon is one of the most challenging of all the Winter Olympics sports. It requires athletes to have both stamina and precision as they compete in a cross country skiing race that is interrupted by frequent stops to shoot at a series of targets.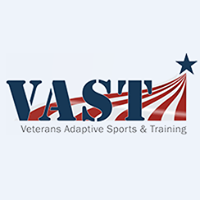 Kristina runs a non-profit program for Veterans called VAST (Veterans Adaptive Sports & Training) at Pineland Farms in New Gloucester, ME. 
House in the Woods loves to share the many other organizations out there who honor and respect our veterans by showing them that they too can be active in all of the outdoor activities that their non-combat wounded brothers enjoy.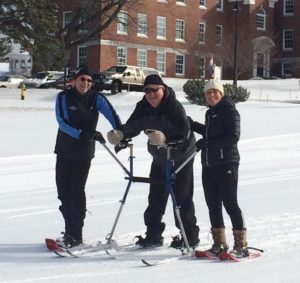 Through such activities the healing process kicks in and the stress is lessened by the accomplishment of physical activity they once thought they would never participate in again. At VAST they have adaptive equipment for veterans with a disability so everyone can participate in whatever they are doing. The best part of their program, which is run by veterans, is that the veterans experience that same sense of camaraderie of being in the military.
Veterans learn they are not alone with their experiences and challenges, and learn new resources to help them overcome their injuries sustained from the military.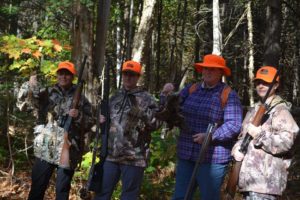 We first met Kristina (far left) when she joined the Women Veterans Bird Hunt this year at House in the Woods. Kristina shares: This was my first time bird hunting. The guides at House in the Woods were wonderful and explained everything I needed to know about bird hunting.
All of us females were Veterans so we all knew how to shoot M16s, etc. However, some of us weren't familiar with shooting shotguns. Once we learned the logistics, we were good to go. I shot 2 partridges and even learned how to clean them myself. I cooked them for dinner for my family when I got home and they were delicious! 
The best part of the camp (HITW) was hanging out with fellow female Veterans. It's somewhat rare that I am with a group of females with the same interests. Usually I'm the only female when I'm at the shooting range or out hunting. It was great to share similar experiences about being in the military because not all of my female friends understand what it's like to be a Veteran.  We also shared what its like being so busy juggling work and taking care of our children.  We also felt very welcomed and supported by Paul and Dee House and all the volunteers at House in the Woods who were sincere in their willingness to support Veterans.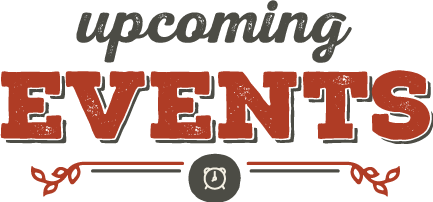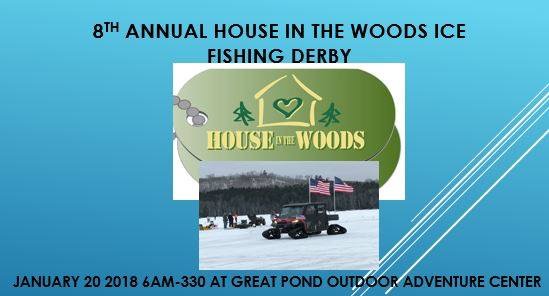 New England folks believe it's never too early to get the kids on the ice! Be it ice fishing, skating, snowmobiling on the thick ice or just exploring nature, we are a hearty bunch who don't let a little cold and snow stop us!!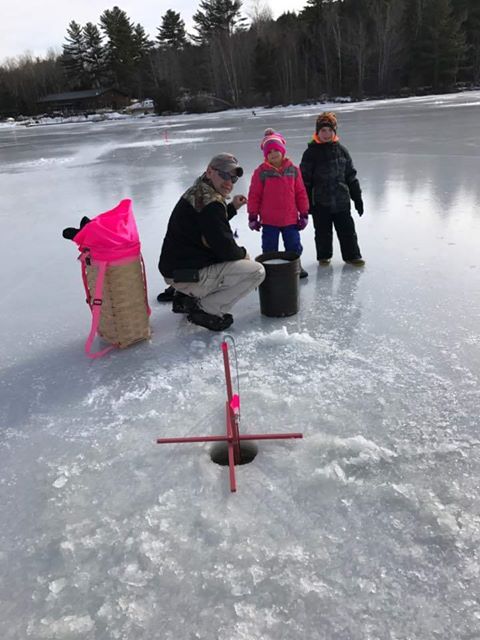 Pack the warm clothes, wear the warm, warm boots, and bring a thermos of coffee and some hot chocolate for the kids! If you have never been ice fishing you definitely are in for a treat! A time your kids will always remember….and you might even snag a fish or two!!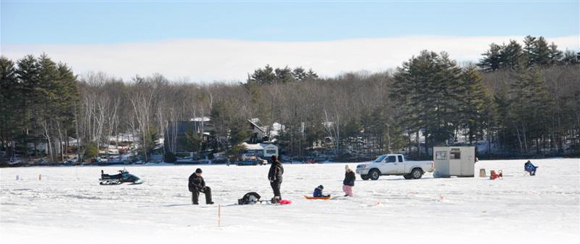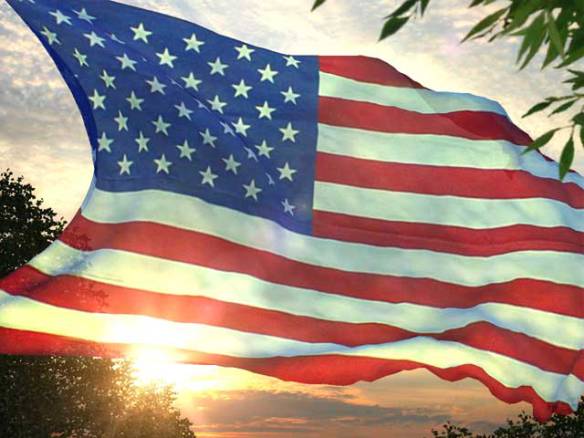 In Your Honor
Unselfishly, you left your fathers and your mothers.  You left behind your sisters and your brothers.
Leaving your beloved children and wives. You put on hold, your dreams-your lives.

On foreign soil, you found yourself planted. To fight for those whose freedom you granted.

Without your sacrifice, their cause would be lost. But you carried onward, no matter the cost.
Those who survived were forever scarred.  Emotionally, physically, permanently marred.
With a hand upon my heart, I feel the pride and respect; my reverence is revealed in the tears that now stream down my upturned face.
 As our flag waves above you, in her glory and grace, freedom was the gift that you unselfishly gave.
Every day, I give my utmost admiration, to those who had fought to defend our nation.

Author Unknown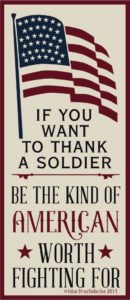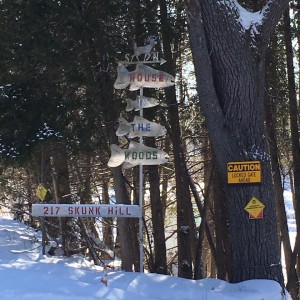 CONTACT US
House in the Woods
217 Skunk Hill Rd, Lee, ME 04455 
Tel: 207-738-VETS (8387)
deanna.house@houseinthewoods.org